by Ronna Brown, President, Philanthropy New York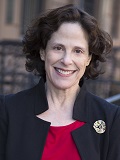 It's summer and some of you are thinking about getting away from it all. But at Philanthropy New York, we're also thinking about getting you involved. This is the time of year we like to remind you of all the different ways you can be engaged at PNY – committees, networks, programs, blog postings and more. Active engagement here at PNY lets you support your community and connect with peers. There are dozens of ways you can connect through PNY, and you can see a very long list of them in our full Member Engagement Checklist.
Among those, we invite you to consider several available options from the list below and pick those that are right for you. Now is the time to express your interest.
1. Join a committee. Philanthropy New York has a number of committees that strengthen our organization's governance and its strategic direction. Several of these committees have openings for PNY members for the 2014-2015 session. These include:
2. Join a network. We have several peer networks that are welcoming new members:
3. Join an issue-based working group. These include:
SUBMIT YOUR INFORMATION TO JOIN a Committee, Network, Working Group. Please respond by Friday, August 22. (Members will be chosen based on availability and professional experience.)
4. Update your profile to stay abreast of programs that meet your interests. Log in to our new website and click on My Account to choose your professional and funding area interests. If you haven't set-up a password for the website yet, check out our Getting Started Guide.
5. Write a blog post. Have an idea or opinion on an issue? Share it with your peers on the New York PhilanthroPost's Opinions & Insights column. Contact editor@philanthropynewyork.org to get started.
6. Develop a members briefing. Last year, we put on over 150 programs for our members. We'd love to have your input. If you have an idea you'd like to explore, contact our new Director of Learning Services, Aditi Davray. Have a program idea already fleshed out? Use our PNY Members Briefing Preliminary Planning Form.
7. Moderate a program. If you're knowledgeable in a particular area, contact us about moderating a program on the topic. Contact Aditi Davray to learn more.
Looking for something different from these opportunities? E-mail us to suggest new ways for our members to learn and lead.
We look forward to working with you in the coming year and hearing your ideas. Thank you in advance for your support.