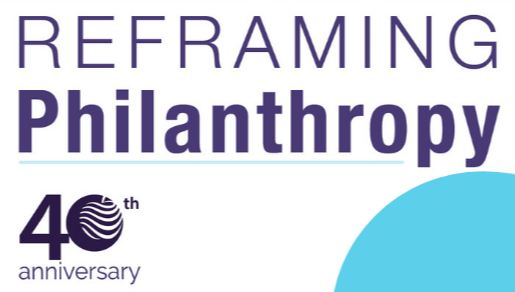 This program is a part of Philanthropy New York's Reframing Philanthropy Series, following its 40th Year Annual Meeting:
Reframing Philanthropy is a program series examining current criticism and future opportunities for the field.
---
Foundations can make tangible commitments to Diversity, Equity and Inclusion in ways that go far beyond grantmaking. They can emphasize DEI in the context of foundation hiring, advocacy strategies and investments. Why bother? Because this makes their work more impactful while exemplifying their dedication to DEI principles. - Judy Belk
Values are simple to write down, but carry little meaning without demonstrated action. Diversity, equity and inclusion have been a popular topic for foundations to discuss for years, but The California Wellness Foundation has been walking the talk both internally (e.g. related to hiring and investments) and externally (e.g. with new grantmaking and mission-related investment strategies).
Join us for a conversation with Judy Belk, who has led The California Wellness Foundation since 2014. In her role as CEO, Belk uses her vision and her voice to help Cal Wellness, one of the largest foundations in California focused on equity, access and advocacy, "level the playing field" and fulfill the vision of functioning as a social justice public health funder. Fellow PNY Member Don Chen, President of Surdna Foundation, will engage Belk in conversation, followed by Q&A with PNY members. 
Explore
How foundations can operationalize racial equity internally, from working with the board to shifting organizational culture
How to incorporate racial equity into grantmaking strategies
How to deploy foundation assets with a racial equity lens, from working with diverse asset managers to targeting underresourced areas with mission-related investing and PRIs
Why incorporating values into every aspect of a foundation's work matters
Presenters
About: The California Wellness Foundation began grantmaking in 1992 when Health Net, one of California's largest health care and insurance providers converted from nonprofit to for-profit status, establishing one of the largest "health care conversion" foundations at the time. Today, the foundation's assets are more than $900 million, and it awards approximately $35 million in grants annually. Cal Wellness is known nationally for its funding of violence prevention efforts and for a leading role in preventing gun violence.
Since her appointment as CEO, Judy Belk has focused on strengthening several key areas of foundation operations and worked with board and staff to develop the organization into a more accessible and vocal grantmaking institution. With the full support of the foundation's board of directors, she works to integrate Cal Wellness' commitment to diversity, equity and inclusion into every aspect of the foundation's operations.
Belk is a trustee of the Surdna Foundation and has served on the boards of Northern California Grantmakers and Southern California Grantmakers. Before joining Cal Wellness, she served as senior vice president of Rockefeller Philanthropy Advisors and as vice president of global public affairs at Levi Strauss & Co. Belk is a frequent writer and speaker on issues of race, equity and inclusion. Her pieces have aired on National Public Radio and appeared in The New York Times, the Los Angeles Times, the Wall Street Journal and the Washington Post.
Designed for
All interested funders.
Registration 
8:45 - 9:00 AM  Check-in and Welcome Breakfast
9:00 - 11:00 AM  Program
Registration is required by November 5th.
Members: To register yourself and/or a colleague at your organization, please log in and click the Register Now link above. (no fee)
Non-Member Funders: Please email register@philanthropynewyork.org. 
Please note: To ensure fairness among our members, we reserve the right to limit the number of attendees per organization for select professional development programs.
Please email register@philanthropynewyork.org with any questions.