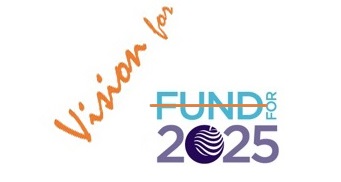 Your VISION for 2025 – A Report on Year One
At the start of 2014, Philanthropy New York faced two separate challenges.  The first was the recognition that its strategic plan set forth ambitious goals in the areas of programming, public policy and institutional sustainability that would be difficult to reach with the existing budget.  The second was a reckoning with NYC real estate. Our office lease ended in June 2015 and renewing it wasn't possible. Our Board and staff saw the situation as an opportunity to communicate with our members about the long-term possibilities for both PNY and the capacity of the philanthropic sector of the region. These challenges turned into the opportunity we called The Fund for 2025 – A Vision for the Next Decade. 
Because we officially launched the Fund for 2025 campaign in October 2014, we have committed to reporting on the progress of our long-term plan supported by the Fund every Fall over the next decade.
Philanthropy New York successfully raised over $3.8 million for the Vision for 2025 dedicated to the following areas: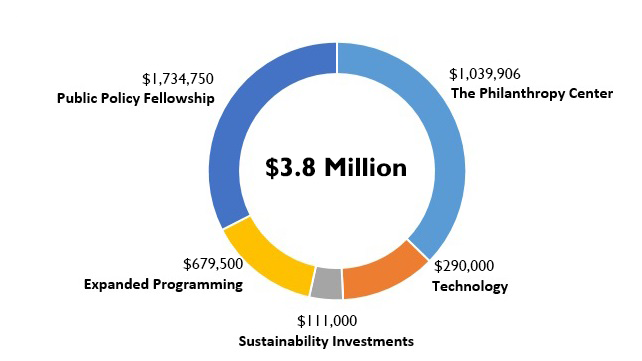 We have made remarkable progress in all five areas of the Vision for 2025 in the period November 2014-October 2015:
The New Philanthropy Center at 1500 Broadway
On June 22, 2015, staff were able to move into the new office at 1500 Broadway, and on September 10, 2015 we welcomed the Philanthropy New York community to our new conference facilities with a full slate of Fall programming.
Our new Philanthropy Center is designed to support a wide variety of meetings and collaborations.  Our largest conference room can comfortably host meetings of 75 people and has a sliding soundproof wall that will allow us to seamlessly divide the room into two separate rooms, both with separate audiovisual projection and screen set up, as well as separate livestreaming capabilities.  Along with our secondary conference room that holds up to 25, that means we now have the flexibility to either host three meetings at one time, or to allow for longer, deeper dive, conference style meetings that require breakout sessions. A great example is the September 24 "Hands-On Workshop: Communications Evaluation for Foundations and Nonprofits," which had three breakout tracks on evaluating social media, film & video and advocacy campaigns.
When visiting our new space, members often remark on how much more space we seem to have.  In fact, we have slightly less square footage than our previous offices.  The big difference is that we used to have about one-third of our space dedicated to member meeting spaces and two-third to staff offices, and we've flipped the proportions to two-thirds of our space now dedicated to member meeting spaces and only one-third to staff offices.
In addition to the large, subdividable conference room (named Central Park Room) and the other large conference room (Prospect Park Room), we have several other meetings that are already popular with our members, including the Washington Square four-person meeting room, the Flushing Meadows Park six-person meeting room, the Pelham Bay Park lounge overlooking the action of Times Square, a private "Gramercy Park" guest office and an additional four+ Clove Lakes Park meeting room.  In the first three months of having the new conference facilities open to members we witnessed a remarkable increase in usage by our members, frequently as much as three large-scale meetings a day with several smaller rooms in use at the same time!
The Central Park Conference Room, set up to seat large gatherings up to 75 people.
Our new offices boast a number of Universal Design elements for the visually impaired:
High levels of indirect lighting provided throughout all spaces
We avoided the use of patterns such as stripes and checkered blocks
We have slip-resistant flooring with minimal flooring height transitions
We eliminated door thresholds for ease of mobility
We used a high color contrast – 70% contrast ratio between flooring and walls, high contrast between seating upholstery and carpeting
We worked with the managing agent of the building to modify the building standard restrooms to ensure that the walls contrast with the floors and the restroom countertop constrasts with the floor
We developed decals for the restroom and toilet doors to make sure they were clearly marked and easy to see
We used simple graphics to wrap the columns on the perimiter of the space, creating an implied arrow that points people to the conference rooms
We created landmarks, such as our oval floating counter, to provide visual cues indicating the direction of the conference room
We have oversized LCD and projection screens for ease of viewing
We also made a number of sustainable choices, such as:
Bamboo cabinetry that is made from 100% rapidly renewable bamboo
A countertop that contains 60% post-industrial scrap waste aluminum
Our member café countertop made from 85% recycled flint glass and 15% modified Portland white cement
Our carpeting is made from 44.5% recycled content, and all carpet is 100% recyclable
The upholstery fabric on our conference chairs is 100% recycled polyester
The upholstery fabric on our huddle room chairs is 77% post-consumer recycled polyester
Our lighting is all LED fixtures, and we are the only floor in our building to have all LED fixtures
In the foreground, Washington Square Park meeting room, looking toward additional meeting rooms and staff offices.
Major Technological Improvements to Support Member Communications
The move has also presented an opportunity to upgrade our technology to better serve our members across the entire region with better sound and audio recording systems, video equipment, and control room technology, as well as upgrade our website and other online infrastructure.  We have designed technology systems that will allow for greater connectivity and ease of use for both staff and members.  We have built (and are currently testing) livestreaming capacity into both the larger and medium conference rooms and videoteleconferencing in the smaller huddle rooms. 
In addition, we are already investing Fund for 2025 resources into upgrades across our technological platforms.  For example, Philanthropy New York hosts a number of listservs for philanthropic professional groups and issue-based working groups.  This year, we are undertaking a project to streamline those listservs and integrate them into our current web and Salesforce platform for a more seamless communication experience.  We have also purchased a media database subscription that allows communications professionals from our membership access to over 100,000 journalists across disciplines.  This allows us to create tailored lists of journalists so that our members can target press release distribution, and it is especially helpful for smaller foundations without communications departments that want to be able to promote their work in the media.  In 2014, we invested a small amount of technology funds in the effort on website buidout to expand our topical coverage on the New York PhilanthroPost. In the coming year, we will be continue improvements to better showcase video content offerings and other information dissemination initiatives.
Our technological improvements both in the physical space and on our website and database platforms will continue to improve our member's abiltiy to convene and communicate their priorities with leaders in philanthropy, government, business and nonprofit sectors.   
Public Policy Fellowship
To flesh out the development of the Public Policy Fellowship plan, PNY staff brought together about a dozen leaders of member organization who have run internship or fellowship programs to talk about their experiences and learn from them.  The discussion yielded some important lessons, which helped us to better tailor the public policy fellowship application and develop a fuller idea of how to create an experience that would be maximally productive for both the fellows and PNY.  Our fellowship application was disseminated through the graduate departments of five universities (but found an audience beyond just those five) in late Winter of 2015, and top candidates were put through three rounds of interviews.
We are thrilled to report that our inaugural fellow, Stephanie Chrispin, accepted our offer and joined our team in late July 2015. She holds an M.P.A. in Health Policy and Finance from New York University's Robert F. Wagner School of Public Service and a B.S. in General Science and History from Fordham University. Her background in health services administration and community organizing influenced her passion for health equity, diversity and inclusion in executive leadership, and immigrant rights.  Deeply involved in the Filipino-American community, Stephanie is Vice President of the board of Pilipino American Unity for Progress, Inc (UniPro). Stephanie previously served as Fundraising Director for UniPro, where she established the organization's fundraising and grants management programs. In addition, she currently sits on the board of the Filipino American National Historical Society (FANHS) Metro New York Chapter.
You can read more about Stephanie's first few weeks on the job: https://philanthropynewyork.org/news/public-policy-deep-end
In her first three months, our inaugural fellow has been exceptionally productive, especially in helping develop an issue guide on donor-advised funds that was completed right before a major national conference on that subject, which positioned us well as unbiased experts on the topic and lead directly to PNY staff being quoted by the Chronicle of Philanthropy in its coverage of the conference.  Two other elements of her fellowship – pairing with mentors in the field and identification of a major project for her two-year tenure – are already set.  We have laid an excellent foundation for bringing on the second Public Policy Fellow in the summer of 2016.
Public Policy Fellow Stephanie Chrispin
Programming
One of the objectives or our Vision for 2025 emphasis on programming is to invest resources in developing "deeper dives" in addtion to our normal set of programming.  In the first half of 2015, Philanthropy New York presented several programmatic series, as well as two half-day conferences. We also partnered with the Johnson Center for Family Philanthropy to produce a two-day conference for family foundations.  The Fund for 2025 is a resource for us to further develop new learning tools, new learning series (such as the Philanthropy 101 series that is currently in development), and to augment our programming across the professional spectrum – from emerging young leaders to seasoned program officers. For example, this year we expanded our Young Leader's Breakfast Club program, engaging 60 young professionals and 20 seasoned mentors from among our leadership in a 9 month mentorship program.  We continue to explore ways to share our programming and policy work with new audiences.  We have posted 26 program resources on our YouTube channel and website, and we have live-streamed 15 programs with in-person and virtual audiences. 
This has also been a very successful year in terms of engaging our members and leaders in government, nonprofit, academia and media.  In the past 11 months, we have engaged more than 40 government officials/policymakers and academics through in person meetings, programs, blog posts, and site visits.  We launched the New York PhilanthroPost with a modest goal to enroll 200 new users.  As of August of 2015, we have 1024 new subscribers.  Special thanks to our members and policy makers who have shared critical thought pieces on important policy issues.