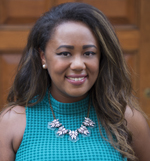 What Am I Doing Here? 
By Stephanie Chrispin, Philanthropy New York Public Policy Fellow
It's been seven months since I joined the team at Philanthropy New York as the inaugural Public Policy Fellow.  The fellowship program was one of the most popular aspects of the
Vision for 2025
, so I get a lot of questions from members who contributed to helping make this fellowship happen about what I'm actually doing.  And, we're also getting a lot of interest from people for this year's round of fellowship applications, so we thought it would be good to do an Insights column about what it's really like in the trenches.
I have had many opportunities to really flex my research and organizing muscles, while developing a more nuanced view of the philanthropic sector. One of the first projects I worked on last fall was the creation of PNY's
Issue Guide on Regulating Donor Advised Funds
. That research and writing project was especially timely because it positioned us as an unbiased authority on an increasingly controversial topic – and netted my boss an invitation to a major conference in Washington where advocates on both sides were making their case to legislators and their key policy staff. 
As staff liaison for two of PNY's issue based working groups, Funders of Women and Girls and Health Policy Working Group, I've participated in the planning and execution of several programs. Recently, I had the chance to spearhead the program development and execution of
Local to Global: Efforts to Address the Increasing Prevalence of Teen Girl Suicide
. The program featured philanthropic and nonprofit leaders and researchers discussing the impact of gender norms on adolescent teen girl mental health, and the dearth of mental health services available to such a vulnerable population. I conducted the primary outreach and coordination of the program, giving me the opportunity to converse directly with government, philanthropic and non-profit leaders. As a result of that program, I had the opportunity to publish a
feature piece
in our newest format, PhilTV, for the New York PhilanthroPost. 
Thus far, I've curated news items and solicited pieces for the New York PhilanthroPost's Member News, Sector News, and Insights columns, like
Some Winning Ingredients in Movement Building Are the Spiciest of All
. I even had a chance to write my own original content for the website, penning For
CEIP, Don't Call It a Comeback
on the Committee for Equitable and Inclusive Philanthropy's name change, and updated tagline, mission, and goals. I've had the privilege of working with CEIP as their staff liaison, where I've witnessed their progress and continued dedication to diversity, equity, and inclusion in the philanthropic sector. PNY has a
long history
of supporting programs that seek to increase diversity in grantmaking and philanthropy at-large, and I'm proud to be continuing that legacy.
Through my work with the committee, I've also developed relationships with two philanthropic leaders who serve as my official mentors: Patricia Eng, Vice President of Programs for New York Women's Foundation, and Cynthia Rivera-Weissblum, President and CEO of Edwin Gould Foundation. I find both of them so inspiring, and it's encouraging and exciting to draw on their knowledge and support during my fellowship. On the flip side, I'll also be supervising and mentoring a high-school student learning about philanthropy as an intern at PNY over this upcoming summer—fostering a leadership development pipeline for the philanthropic sector.
I'm excited for what we have coming up for 2016. In April, I'll be supporting PNY's efforts to connect with New York's congressional delegation by scheduling and attending Foundations on the Hill, the annual gathering of sector leaders to meet with federal officials on issues of concern to the philanthropic community. I'll be helping develop the written materials to share with legislators. It'll be my first time participating in FOTH, and I look forward to learning how the process of educating policymakers works and gaining insight into DC politics.
This spring and summer, I'll be supporting the Public Policy Committee by helping execute the statewide funder policy training series we are doing with the Advocacy Institute. For this ambitious initiative, I'll be managing the invitation and outreach process, attending the program at PNY, and organizing the logistics of the event. I'll also be supporting the Education Working Group in fielding a survey of education funders to better understand the complexities of reform priorities in New York.  Lastly, I'm looking forward to taking a leadership role in developing a new online tool that we hope will become the go-to source for information for hot-button topics in philanthropy.  For this initiative, I will be immersed in both the content development and some of the structural design.
I'm amazed at what I've been able to accomplish in my short time at PNY, and have already learned so much about myself and where I fit within the world of philanthropy. Building on this momentum, I look forward to welcoming a second fellow this summer, and continuing my support of our members' work in propelling social change. 
Know a recent or nearing completion graduate student who might be right for the Public Policy Fellowship?