As philanthropy continues to shift toward sharing and/or building power with its community partners, more foundations are looking at the make-up of their board leadership and asking questions such as:
What do we want to envision for our future? And in what ways does the current set-up of our board, or the composition of our board, present a barrier for us getting there?
 
What are the skills, competencies, and practices that we want to prioritize in thinking about leadership, power, and where power is held in our institutions?
The impact of racial diversity on boards is clear - diverse outlooks, experiences, skillsets, and voices have been shown to improve and strengthen board performance. However, scaffolding is needed for true racial diversity that goes beyond tokenism. Culture, training, and intentionality needs to be built in. Without examining and rebuilding the systems that help uphold the disparity between White and Black board membership, organizations will never live up to their full potential.
In October 2021, the Inclusion, Diversity, and Equity in Environmental Philanthropy (InDEEP) initiative released the Race to the Board report. It found a lack of structural readiness, weak recruitment strategies, and challenges in retention can be directly linked to the absence of Black leaders on boards. Expanding on the recommendations made in the Race to the Board report, a toolkit was developed to provide actionable steps and resources for preparing boards to recruit and retain Black leaders.
Join us for a discussion on potential challenges and recommended best practices for boards to consider as they begin or continue their journey as a racial-equity centered organization.
What will I learn?
How to identify the opportunity gap caused by ongoing, disproportionate biases that result in the historical exclusion of Blacks on boards
What is the cost of maintaining boards as is to realizing their future mission and vision?
Effective readiness, recruitment, and retention board strategies for diversifying boards
How the Race to the Board Toolkit can be implemented into practice
** This session is designed for CEOs and Trustees only. **
Speakers
Who should attend?
All interested funders in CEO and Trustee roles. What to expect: presentation followed by roundtable discussion
How do I sign up?
Members: Please log in and click the Register Now link above (no fee).
Non-Members: Please email register@philanthropynewyork.org. ($150 fee) 
Registration is required by October 26th. 
Registrants will receive the webinar link a day prior to each session.
Please email register@philanthropynewyork.org with questions or for further information on this program or on eligibility.
What else should I know?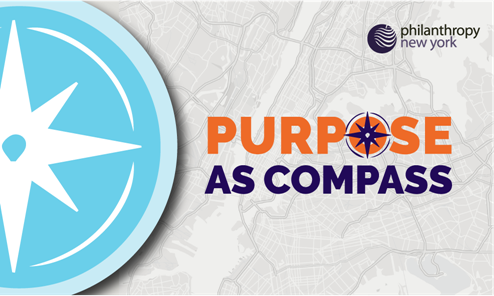 **This is a part of our Purpose as Compass program series, supporting the sector to reimagine philanthropy in service to racial equity and purpose.**