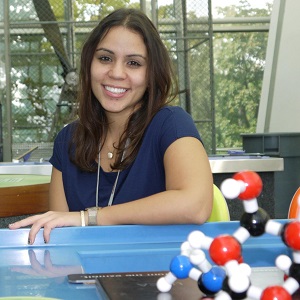 by Jennifer Correa, Program Officer, The Pinkerton Foundation
On January 22nd, Philanthropy New York hosted a funders briefing, "
Learning to Write Code: The New Literacy
." During that lively session, we heard from educators, policymakers and funders about the issues and opportunities in computer science education and the tech sector.  While all the attention on computers and coding is certainly welcome, it is also important for funders to not lose site of the value of science, technology, engineering and math (STEM) education as a whole.
STEM education in the out-of-school time is an increasingly important part of The Pinkerton Foundation's grantmaking efforts. Last year, Pinkerton invested over $4.6 million in STEM programs that range from astronomy to engineering to environmental stewardship.  Pinkerton supports career exploration programs for New York City low-income high school students that include mentored research opportunities such as the
Science Research Mentoring Program
(offering authentic research opportunities for young people at eleven science-based institutions in the city) and STEM-related internships at community-based organizations including the
Van Cortlandt Park Conservancy
and
The New York Hall of Science
. We also support initiatives designed to introduce high-quality science and technology activities in after-school programs like
TASC's STEM Academy
and
PASE's Taking Root: Strengthening STEM
initiatives.  
Why STEM? STEM education creates critical thinkers, increases science literacy, and spawns the next generation of innovators. According to a 2012 report by the U.S. Congress Joint Economic Committee, science and technological innovations have accounted for more than half of the United States' economic growth since the beginning of the 20th Century.  And the need for STEM-literate citizens will continue to grow.  Future innovation depends on a solid knowledge base in the STEM areas. But today many students – especially minority students and girls – lack interest in science education and STEM careers.  Too often students who show proficiency and promise, including minority students and girls, drift away from science and engineering toward other fields.
How can we change this? The obvious answer is to get children excited about learning STEM subjects earlier, to show them the possibilities in a STEM career track.  But this is a daunting challenge when many children have less than one hour of science classwork per week.  Children in grades one through twelve spend less than one fifth of their waking hours in formal learning environments.  Out-of-school time programs are increasingly recognized as a way to effectively engage young people, particularly in STEM.  These programs not only help students understand STEM, but also foster lifelong learning by providing role models and important connections between what they learn during the day and real-life settings. The after-school hours have the ability to create "active learning" opportunities where young people can be involved in project-based activities that will enable them to think like – and see themselves – as scientists, mathematicians or engineers.  
What can foundations do? Invest in STEM education! A number of foundations are increasing their support in STEM education – and many are not doing it alone.  Funding collaboratives like the
Hive Digital Media Learning Fund
and the STEM Funders Network are developing and underwriting high-impact projects no grantmaker could undertake alone. But there is still more that can be done.  We hope you can join us in this effort.