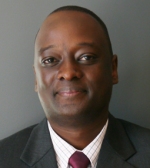 The Rockefeller Brothers Fund (RBF) is pleased to announce the appointment of Mark Adiedo as Director of Human Resources. Reporting directly to the Vice President for Finance and Operations, Adiedo will be responsible for developing and directing a human resource strategy that supports the RBF's mission, values and culture. As Director, he will provide leadership, guidance and professional expertise to senior management and services to staff and the Fund's affiliates on matters related to human resources and organizational development.
"We are pleased to have Mark join our staff. With over 10 years of nonprofit experience, particularly in human resources management, organizational development and program management, Mark brings a valuable perspective to our work and interaction with staff," said Geraldine Watson, Vice President for Finance and Operations of the Rockefeller Brothers Fund.
Prior to joining the Fund, Adiedo was the Human Resources Manager at the Church World Service, where he oversaw the New York staff. He has worked and consulted for a number of New York City nonprofits that address issues of homelessness, sustainable development, displaced populations and global humanitarian assistance.
Adiedo holds a Bachelor of Science degree in Social Sciences from Catholic University of Eastern Africa. In addition, he holds Master's degrees in Industrial Sociology from University of Witwatersrand and in Human Resource Management from the Milano School of International Affairs, Management, and Urban Policy.