Wednesday, February 12, 2014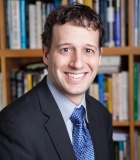 The Alfred P. Sloan Foundation is pleased to announce that Dr. Evan Michelson joined the foundation as Program Officer on January 1, 2014. Michelson's primary responsibility will be overseeing strategy development and grantmaking in the foundation's Energy program and overseeing the Sloan Digital Sky Survey (IV). He will also help manage the foundation's support for basic research in the natural sciences, collaborating with the President and foundation program directors to accelerate scientific breakthroughs through strategic grantmaking across a diverse array of disciplines.
The Sloan Foundation's Energy program supports original, high-quality, policy-relevant research that expands our understanding of the economic, technological, organizational, regulatory, national security and environmental consequences of energy production and consumption. Recent grantmaking in the Energy program includes support for projects exploring strategies to safely expand nuclear power and responsibly manage radioactive materials; research on the economic, environmental and political impacts of shale gas extraction; and efforts to understand the effectiveness of government initiatives that promote energy efficiency.
Michelson will also be responsible for oversight of foundation grantmaking in support of the Sloan Digital Sky Survey, a major astronomical survey that operates a pioneering 2.5 meter optical telescope out of an observatory in Apache Point, New Mexico. Supported with more than $40 million in Foundation grants since its beginnings in 1992, the Sloan Digital Sky Survey is now in its fourth phase of operation and is focused on advancing our understanding of the evolutionary history of the universe.
"Evan Michelson's unique blend of expertise at the intersection of science, technology and public policy makes him uniquely qualified to serve as Program Officer at the Sloan Foundation," said Foundation President Paul L. Joskow. "I look forward to working with him to help advance the Foundation's mission and in continuing its tradition of supporting high-quality research."
"I am honored to join the team at the Sloan Foundation and to contribute to the Foundation's pioneering legacy of supporting impactful research and exploring new fields of investigation," said Michelson. "Energy and basic research are among the most critical societal issues of the 21st Century, and I look forward to helping lead the Foundation's grantmaking efforts in these areas."
Formerly a Director at the Markle Foundation, Michelson oversaw a research portfolio and managed the collection, analysis and dissemination of information bearing on the organization's goals. Prior to joining Markle, he was an Associate Director at the Rockefeller Foundation, where he was responsible for a grant program that created a global network of horizon-scanning organizations and generated promising new strategic intervention opportunities. Michelson has a Ph.D. in Public Administration from New York University, an M.A. in International Science and Technology Policy from The George Washington University, an M.A. in the Philosophical Foundations of Physics from Columbia University, and a B.A. in Philosophy of Science from Brown University. He has served as a Research Associate at the Woodrow Wilson International Center for Scholars and was a Christine Mirzayan Science and Technology Policy Graduate Fellow at The National Academies.