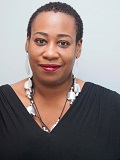 The Daphne Foundation Appoints Yvonne Moore to Its Board of Trustees
The Daphne Foundation has announced the election of Yvonne Moore to its Board of Trustees. A private family foundation founded in 1991 by Abigail E. Disney & Pierre N. Hauser, The Daphne Foundation focuses its investments in organizations that confront the causes and consequences of poverty in the five boroughs of New York City. 
Ms. Moore brings with her a lifetime of service in the social justice sector as well as a breadth of experience having worked in the government, nonprofit and philanthropic sectors over the last 20 years. Before joining the philanthropic sector in 1999, she spent 10 years working in child protection and advocacy and is co-author of the report "Bridges to Independence: Improving Transitions to Adulthood for Youth Served by the New Jersey Division of Youth and Family Services." 
Yvonne holds a BA from Texas Tech University and a MS in Nonprofit Management from the Milano School of International Affairs, Management, and Urban Policy at the New School. She has completed post-graduate studies in democracy and civil society at the University of Cape Town, and nationalism, post-conflict violence and gender at the University of Lower Silesia in Poland. She is also a trustee of the New York Women's Foundation, Philanthropy New York, and Cause Effective, and is a member of the Issue Advisory Committee at the National Center for Family Philanthropy.