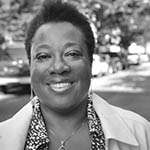 After Orlando, After Anger and Sadness, the Work to Be Done
By Dara Major, Dara Major Philanthropy Consulting and Chair-Elect of the Board of Directors, NYC LGBTQ Anti-Violence Project
and Beverly Tillery, Executive Director, AVP
The largest mass shooting in recent US history occurred at an LGBTQ nightclub in Orlando, Florida.  We lost 49 people with bright futures, and over 50 more were injured in the shooting.  Our hearts are heavy, and our thoughts are with the survivors as well as the friends and loved ones of the victims.
This is an enormous tragedy.  It is a staggering act of violence aimed at the LGBTQ community, but a tragedy that belongs to the entire nation.  With mass shootings occurring all too frequently, we must begin to talk about the ways LGBTQ people are impacted by gun violence in this country.  We must also consider the broader context in which this horrific act of violence has occurred.  We must not overlook that this happened while many across the country are celebrating Pride, and against the backdrop of harmful anti-LGBTQ legislation sweeping the nation.
There are so many important organizations across the country working to end the violence, and the philanthropic community should redouble its efforts to support them. We are very proud to be associated with one of them: The NYC LGBTQ Anti-Violence Project.
AVP was founded in 1980 as a community response to violence, and today it is the nation's largest organization empowering LGBTQ and HIV-affected communities and allies to end all forms of violence.  We do this through organizing, education and advocacy as well as by providing an array of free services to survivors of violence.  Our services include a 24-hour crisis hotline, individual counseling and support groups, leadership development and outreach.  AVP was recognized by the White House as a "Champion of Change" in 2011, and was instrumental in achieving our nation's first-ever LGBTQ-inclusive federal law, the reauthorization of the Violence Against Women Act in 2013.
AVP also leads the National Coalition of Anti-Violence Programs (NCAVP) to track and report on violence in the LGBTQ community across the US.  For over 20 years, NCAVP has released reports on the pervasive and sometimes deadly hate violence perpetrated against LGBTQ and HIV affective communities, in the context of the evolving public policy landscape of the LGBTQ movement.  Our 2015 report, prepared with support from Philanthropy New York member organization Arcus Foundation, has long been scheduled to be released today.  The findings are urgent against the backdrop of Orlando, and at a time when sweeping anti-LGBTQ legislation is advancing in the US and existing protections are being rolled back, leaving already vulnerable communities even more susceptible to violence. NCAVP compiles this research to address the nature and frequency of this violence and who it affects.  Hate violence affects us all, and we can all do our part to address it.
Despite the progress we have made on so many fronts, the Orlando shooting is a stark reminder that much work remains to be done. 
In the days ahead, we will learn more about this shooting, and a clearer picture of the motivations will emerge.  However, individualizing the problem of hate violence is not the answer.  Nor is condoning Islamophobia.  Now is the time to stand in solidarity and collectively address homophobia and transphobia in all of our environments, and actively work to challenge and change it if we are to be truly safe and free.
In the days ahead we will be angry and we will be sad.  But most importantly, we will need to come together to support our communities in healing - and we will need to take collective action to end the homophobia and transphobia at the root of so much violence.  We welcome your collaboration and invite your support.