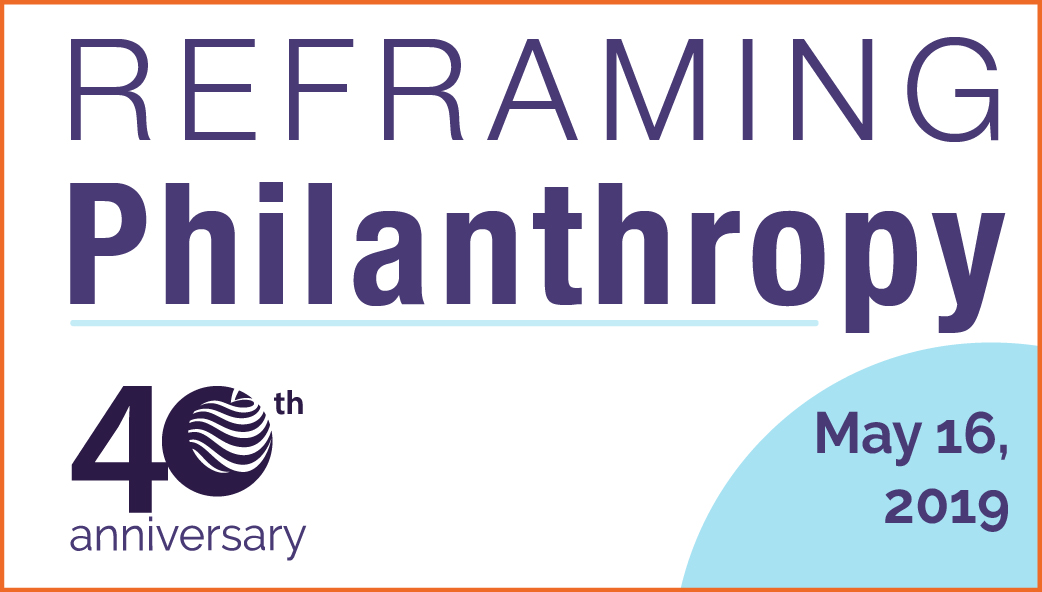 **Click here for a recap (including recordings) of the 40th Annual Meeting**
Join Philanthropy New York as we celebrate our 40th Anniversary at our Annual Meeting, focusing on the field of philanthropy.  Our annual half-day gathering will include inspirational stories, practical learning, and peer networking. We will examine our field, discussing both current criticism and future opportunities.  If life begins at 40, what can we do to ensure the next forty years represent philanthropy at its best? 
Arrive early to cast your vote on the election of new Philanthropy New York Board members and hear a review of the year's accomplishments, and plan to stay past 6 PM for a birthday toast and festive reception. 
This year's annual meeting is generously hosted by the Philanthropy New York Board of Directors.
Celebrate 40 years of Philanthropy New York: register today and add this event to your calendar!
We will be updating this page with more information as the program develops and will send registrants updates as we finalize the day's agenda. 
Preliminary Program:
1:15-1:30 PM                  Registration
1:30-2:10 PM                  Business Meeting: Annual Meeting of the Members of Philanthropy New York
Election of New Board Members
President and Chair's Reports on 2018 / 40th Anniversary Remarks
David Rockefeller PNY Board Leadership Award
2:10-2:30 PM                  Introduction and Welcome
                                        Darren Walker, President, Ford Foundation                                       
2:30-2:50 PM                  PHIL Talk: Exploring the State of Philanthropy with Data
                                        Anita Cozart, Managing Director, PolicyLink
2:50-3:55 PM                  In Conversation (Please note: This session will not be livestreamed.)
                                        Anand Giridharadas, Author, Winners Take All and Doug Bauer, Executive Director, The Clark Foundation
3:55-4:25 PM                  Break (snacks and beverages available)
4:25-4:35 PM                  PHIL Talk
                                        Wes Moore, CEO, Robin Hood           
4:35-4:55 PM                  Special Performance
                                        Sarah Jones, Actress/Writer/Producer, The Foundation
4:55-6:00 PM                  PANEL: Reframing Philanthropy                                       
Jennifer Ching, Executive Director, North Star Fund
Stephen Heintz, President, Rockefeller Brothers Fund
Pamela Shifman, Executive Director, NoVo Foundation
Susan Taylor Batten (Moderator), President and CEO, Association of Black Foundation Executives (ABFE)
6:00-7:00 PM                  Cocktail Reception
                                        Closing words: Ronna Brown, President, Philanthropy New York
Designed for
Philanthropy New York's annual meeting is an exclusive event for PNY members and invited guests.
* Registration is required by May 14th. RSVP is required to attend in person.
Trivia Answers
Week Two
Which of these organizations is a Philanthropy New York founding member
All of them! Join us on May 16th to see a living timeline and find out who else was a founding member.
Foundation for Child Development, New York Community Trust, William T. Grant Foundation, North Star Fund

Which Philanthropy New York Board Member used to be a staff member?
C) Jason McGill, Arcus Foundation

What is the name of our largest conference room?
A) James Baldwin
Week One
When was Philanthropy New York founded?
1979

Who is Philanthropy New York's longest-serving staff member?
Ramona Gadsden

How long are board member terms?
3 Years