"When we are not called mad dogs, animals, predators, offenders and other derogatory terms, we are referred to as inmates, convicts, prisoners and felons—all terms devoid of humanness which identify us as "things" rather than as people. These terms are accepted as the "official" language of the media, law enforcement, prison industrial complex and public policy agencies. However, they are no longer acceptable for us...We are asking everyone to stop using these negative terms and to simply refer to us as PEOPLE. PEOPLE currently or formerly incarcerated, PEOPLE on parole, PEOPLE recently released from prison, PEOPLE in prison, PEOPLE with criminal convictions, but PEOPLE."  
— Eddie Ellis, An Open Letter to Our Friends on the Question of Language 
"Why pretend these words don't seize our breath? Prisoner, inmate, felon, convict." 
— Reginald Dwayne Betts, Felon: Poems 
Too often, language is used to (re)produce racial disparities and uphold a social hierarchy. A prime example is how people impacted by the criminal legal system are described in our dominant discourse. This discourse is in line with dominant narratives that predetermine the root causes of and, critically, the responses to violence and "crime." It informs how the public and policy makers frame conversations such as the recent rollbacks on several criminal legal reforms in New York State (e.g., bail reforms, changes to its discovery laws, and expansions of pre-arraignment detention and involuntary inpatient mental health treatment).
In service to racial equity and purpose, join us for a discussion on why language matters for people and systems change. Moreover, we will explore the power of narrative change, and how philanthropy can both practice and support narrative change work to advance criminal legal transformation.
What will you learn?
Why language matters for people and systems change  
What people-first language is and how it fosters a culture of belonging for people who have been persistently marginalized and defined by their convictions 
The power of narrative change and how it has both been used to roll back on and advance criminal legal reforms 
How funders can practice narrative change within their organizations  
How funders can support and sustain narrative change work to advance criminal legal reform and transformation
Speakers
Who should attend?
All interested funders in grantmaking, communications, and related roles. What to expect: panel discussion followed by Q&A.  
Recording
What else should I know?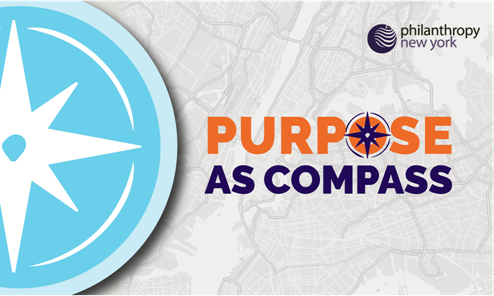 **This is a part of our Purpose as Compass program series, supporting the sector to reimagine philanthropy in service to racial equity and purpose.**                                                                
In Collaboration with