Zul Jamal and Carley Roney Join Brooklyn Community Foundation's Board of Directors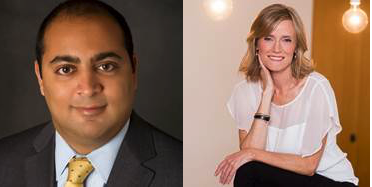 Brooklyn Community Foundation is pleased to announce the election of Zul Jamal and Carley Roney to its Board of Directors, effective Friday, January 26, 2018.
"Zul and Carley are fantastic additions to Brooklyn Community Foundation's leadership team," said the Foundation's Chairman Alan Fishman. "Their impressive business acumen, deep commitment to social justice, and strong ties to Brooklyn's communities are incredibly valuable assets as we continue to build a thriving institution aimed at taking on the most pressing challenges of our day."
Mr. Jamal is a Managing Director at Moelis & Company, an independent investment bank, which he joined in 2008. Prior to joining Moelis & Company, he was a Senior Vice President at Jefferies & Company in New York and Jefferies International in London. Mr. Jamal received a B.S. in Economics from the Wharton School of the University of Pennsylvania. A native of the United Kingdom, he lives in Park Slope with his wife and daughter and has called New York City home for 17 years.
"I am excited to join an organization that is working to make Brooklyn a better place for all its residents, that can serve as a model for communities around the country," said Mr. Jamal. 
Ms. Roney is an entrepreneur and co-founder of The Knot, one of New York City's most successful Internet companies. She led The Knot from its early days as a wedding website to a multi-platform, multi-brand media, commerce, and mobile company. After she left the day-to-day of The Knot/XO Group (NYSE: XOXO), Ms. Roney focused her expertise on supporting female-founded startups, progressive political organizing, and social entrepreneurs. She also sits on the Board of Rent The Runway as well as nonprofits Power of Two and Project Entrepreneur. A resident of DUMBO for over 20 years, Ms. Roney lives with her husband and three children.
"By supporting the most innovative organizations tackling our biggest social justice issues, Brooklyn Community Foundation is at the center of creating models that will be used to create fair and just communities all over America," said Ms. Roney. "I feel honored to be a part of it and am excited to help support and learn from this incredibly talented team of changemakers."
Ms. Roney was also a member of the review committee for the Foundation's 2017-18 Spark Prize for Brooklyn nonprofits, which will award a total of $500,000 to five outstanding institutions in February 2018...