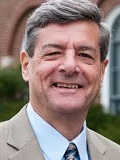 Vic De Luca Will Retire as President of the Jessie Smith Noyes Foundation
Vic has committed the last 25 years to the Foundation, starting as a Program Officer in 1991 and becoming President in 2000.  He will leave the Foundation at the end of November. 
"I am so thankful for the opportunity to work at Noyes," said Vic. "When I arrived, after 16 years of organizing in Newark, we were just getting our feet wet on social justice grantmaking and now we're fully immersed. I am proud of our efforts in making Noyes a respected and effective grantmaker that has influenced philanthropy and been a key supporter of social change work across the United States."
"It has been my privilege to have worked with a terrific staff and dozens of great Board members. I've also enjoyed working with hundreds of funder colleagues on various boards, committees, and projects over the years. And I can't say enough about the thousands of people I've met over the last quarter century who are engaged in the struggle for justice. My life has been enriched by their courage, creativity, and determination."
Vic's clear vision, deep values and unwavering belief in the power of grassroots social movements in achieving economic, social and environmental justice have made an indelible mark.  Whether in advocating for racial, ethnic and gender diversity, responsible investing, or greater accountability to the nonprofit sector and the public, Vic's efforts will have long-lasting impact.