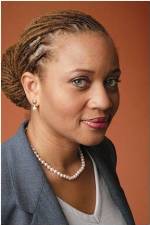 United Way of New York City has announced that Sheena Wright will be the new President and CEO, effective mid-November. Wright has served as the President and CEO of the Abyssinian Development Corporation since 2002 and is a former Board member of United Way of NYC. A lawyer by training, she will be the first woman to lead United Way of NYC in its 75-year history, and will succeed Gordon J. Campbell, who led the organization from 2007 until September 1 of this year.
"The success of United Way of New York City is important to the United Way network throughout the United States and worldwide. I believe Sheena Wright's experience in community and economic development will serve United Way well," said Brian A. Gallagher, President and CEO of United Way Worldwide.
"In what will be our 75th anniversary year, Sheena's hiring as our first female president is historic," said United Way of NYC Board Chair Bob Kueppers. "Sheena is someone who is deeply committed to our city's neediest residents, and has demonstrated tremendous leadership and success in delivering on that commitment. I join the rest of the Board in welcoming her."
"Sheena Wright embodies the mission of United Way of New York City and demonstrates what can happen when young people are given the assistance they need to reach their full potential. Her work across the corporate and nonprofit sectors, as well as her own personal experiences, make her the ideal choice to lead this iconic New York City organization as it continues its important work, improving the lives of low-income New Yorkers through its initiatives in education, income and health," said Senator Kirsten Gillibrand. "I'd like to commend United Way of New York City for selecting such an accomplished leader to serve as its first female CEO."
"I have known Sheena Wright through her work with Starbucks on our community store project in Harlem," said Howard Schultz, Chairman and CEO of Starbucks Coffee Company. "She is one of the most energetic and passionate community leaders that Starbucks has ever had the pleasure of working with. I'm delighted that Sheena is taking over this new leadership role at the United Way to fight hunger and poverty in New York City."
"I am thrilled to be embarking on this new chapter as President and CEO of United Way of NYC. I look forward to continuing and strengthening United Way's work to improve the lives of low-income New Yorkers through initiatives in health, education and income," said Sheena Wright. "I grew up in the South Bronx with a teen mother who raised my sister and me by herself. The strength and fortitude of my mother combined with the help of community programs allowed me to accomplish everything I have today. I have seen firsthand how profound United Way's impact is in our city, and I'm thrilled to have the chance to extend that impact day in and day out on behalf of all of New York's communities."
Wright's personal connection to the work of United Way of NYC makes her uniquely positioned to take on the role of CEO as a true embodiment of the organization's mission. Additionally, her experience in both the corporate and nonprofit worlds will be invaluable as United Way of NYC seeks to strengthen ties between these sectors.
As President and CEO of the Abyssinian Development Corporation, Wright has been responsible for leading and managing one of the nation's premier community and economic development organizations. During her tenure, ADC built 785 units of residential housing in 78 buildings and nearly a half-million square feet of community, commercial and retail space, including the first new high school building in Harlem in 50 years, creating over 1,000 jobs in the process.
Under her leadership, ADC created the "Abyssinian Schools" division, which comprehensively manages five educational institutions that annually serve 2,100 school children and their families. Wright developed an award-winning workforce development program which has helped 200 young high school drop-outs obtain their GED or high school diploma and secure gainful employment. She also developed a neighborhood-based Naturally Recurring Retirement Community that annually serves over 1,000 seniors and increased the service delivery of ADC's homeless shelter.
Wright previously served as Chief Operating Officer of the Abyssinian Development Corporation. Prior to ADC, she served as the General Counsel and EVP of Business Development for Crave Technologies, a Senior Associate at the law firm of Reboul, MacMurray, Hewitt, Maynard and Kristol, and an Associate at the law firm of Wachtell, Lipton, Rosen and Katz.
In addition to her new role at United Way of NYC, Wright serves on the Vera Institute for Justice Board of Trustees and the New York City Regional Economic Development Council. She is a graduate of Columbia University, which she entered at age 16, received her law degree from Columbia Law School, and is a member of the New York State Bar.