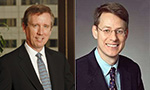 United Way of New York City Board of Directors Elects Donald F. Donahue and Michael J. Schmidtberger as New Co-Chairs
NEW YORK, NY— June 13, 2016— The Board of Directors of United Way of New York City (UWNYC)—the nonprofit organization that, for nearly 80 years, has been a trusted partner to government, corporations, foundations, and community-based organizations serving low-income New Yorkers— today announces the election of Donald F. Donahue and Michael J. Schmidtberger to the positions of Co-Chairs of the Board. Donahue and Schmidtberger assume the position from Robert J. Kueppers, who served as Board Chair since February 2012, and will continue to serve as a member of the emeritus board. 
"This transition demonstrates United Way of New York City's commitment to long-term succession planning and keeping high caliber, capable leaders at the head of our organization," said outgoing Board Chair, Bob Kueppers. "Don and Mike's combined service to UWNYC spans more than 15 years, and during that time they have had a significant impact as Board members and Chairs of key committees. Together, they bring an ideal blend of finance, community impact, and business expertise—as well as a deep knowledge and love of UWNYC—to their new role."
"Bob has been a great pleasure to work with and an inspiration to his fellow board members, to me, and to the entire UWNYC staff," said Michael Schmidtberger. "His integrity and wisdom, gained from many years as a superb corporate and civic leader, were enormous assets to UWNYC and to me personally. In my view, he was the quintessential nonprofit board chair, and it was our great honor to have recognized his outstanding service at our recent 23rd Annual Gridiron Gala." 
"It would be impossible to overstate Bob Kueppers' impact on UWNYC and how personally committed he has been," said Don Donahue. "Mike and I are deeply honored to follow in his footsteps—and the shoes he's left are so big, it took two of us to fill them!"
Background on Donald Donahue
Donald Donahue held various positions in the financial services industry for 45 years and retired from his role as President and CEO of the Depository Trust & Clearing Corporation (DTCC) in 2012. He also served as Chairman of the Board of Managers of Omgeo. During his time at DTCC, Donahue was appointed by the U.S. Secretary of the Treasury to serve as Sector Coordinator for the financial industry and Chairman of the Financial Services Sector Coordinating Council for Critical Infrastructure Protection and Homeland Security. A graduate of Columbia University, Don serves as a member of the Advisory Board to the Trustee of Fidelity Investment's sector mutual and exchange-traded funds, and on the Boards of the NYC Leadership Academy and Physicians for Human Rights. Mr. Donahue began with the UWNYC Board of Directors in June of 2008, and also served as its Treasurer.
Background on Michael Schmidtberger
Michael Schmidtberger is the Managing Partner of Sidley Austin LLP's New York office. Co-head of the Investment Funds, Advisers and Derivatives Group, Mr. Schmidtberger is also a member of the firm's Management Committee and Executive Committee, as well as the firm's Committee on Retention and Promotion of Women. A graduate of Columbia University School of Law and Columbia College, Schmidtberger's leadership in assisting clients has earned him acknowledgement in numerous industry publications, including Chambers USA where he is ranked in Band 1 in the category of Investment Funds: Hedge Funds. In March 2013, Schmidtberger received The John Jay Award, which is presented to members of the Columbia College family, for distinguished professional achievement. Mr. Schmidtberger joined the UWNYC Board of Directors in June 2011.
"UWNYC is extremely fortunate to have such experienced and talented new board co-chairmen, and their election punctuates UWNYC's approach to continuous improvement of our Board practices and sound governance," said Sheena Wright, President and CEO, United Way of New York City. "Don and Mike's dedication, passion, and advocacy for UWNYC are unmatched. I look forward to continuing my strong working relationship with them both."
In addition to Donahue and Schmidtberger's election, Director Denise Pickett has been appointed to the role of Board Vice-Chair, sharing the Vice-Chair responsibilities with Joe Cabrera, who was also appointed to continue in that role. Pickett also recently assumed the role of Chair of the Resource Development committee, taking over the position previously held by George Irish, who has joined UWNYC's emeritus board.
For media inquiries, contact Lesleigh Irish-Underwood, SVP & Chief Marketing Officer at 212-251-2461 or lirish-underwood@uwnyc.org.