Wednesday, February 12, 2014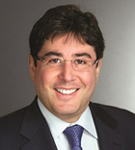 The Board of Directors of UJA-Federation of New York announced on January 23 that Eric S. Goldstein has been elected CEO of UJA-Federation of New York, to succeed John S. Ruskay on July 1, 2014. Ruskay will step down at the end of June after 15 years as Executive Vice President and CEO.
In making the announcement, Alisa Doctoroff, President of UJA-Federation, said, "Eric is an exceptional leader whose uncommon wisdom, collaborative style and demonstrated commitment to our mission make him the ideal choice to lead UJA-Federation. The powerful combination of his professional talents and his deep knowledge of UJA-Federation ensure that we will continue to grow, improve and build on our essential mission: to provide care for those in need and to strengthen Jewish life and community in New York, in Israel and around the world."
Goldstein, a leading partner in the litigation practice at Paul, Weiss, Rifkind, Wharton & Garrison LLP, is recognized as one of the top securities litigators in the United States. He joined Paul, Weiss right out of law school in 1983 and became partner in 1992. In addition to his active litigation practice, Goldstein currently serves as chair of the firm's Pro Bono Committee. He earned his J.D. magna cum laude from Cornell Law School in 1983, and his B.A. also magna cum laude from Columbia College in 1980.
Goldstein is a highly respected leader with UJA-Federation, most recently elected last spring as Vice Chair with broad oversight of UJA-Federation's work in Israel and the former Soviet Union. He is also a member of UJA-Federation's Executive Committee, and previously served in a number of leadership roles, including as Chair of its Lawyers Division, Commission on Jewish Identity and Renewal, and Global Strategy Task Force.
"I'm deeply honored and incredibly excited to have been selected as the next CEO of UJA-Federation of New York," said Goldstein. "Thanks to John Ruskay's visionary leadership and the enormous talents of his senior team and staff, I will come into this role at a time of real strength for UJA-Federation. And because of that strength, I believe UJA-Federation — along with its extraordinary network of agencies — is uniquely positioned to capitalize on the opportunities and address the challenges facing the Jewish community today and into the future."
Also actively involved in Jewish communal life beyond UJA-Federation, Goldstein serves as a member of the Board of Governors of the Jewish Agency for Israel; is a founding board member of Yeshiva University's Azrieli Graduate School of Jewish Education; Chair of the Board of Manhattan Day School; a board member of the New York Legal Assistance Group (NYLAG), a UJA-Federation beneficiary agency; President of the Beth Din of America; a board member of the Ramaz School; and an honorary board member of DOROT, also a UJA-Federation beneficiary agency.
"Eric is nothing less than brilliant. He has proven again and again that he is committed to the broad mission of UJA-Federation. He understands who we are now and can lead us towards a vision of who we can be, in the belief that UJA-Federation represents the best of areyvut — responsibility for an entire community and people," said John Ruskay, current Executive Vice President & CEO of UJA-Federation, who will become executive vice president emeritus in July. "I believe Eric will be an exemplary leader of UJA-Federation and the New York Jewish community."
Eric Goldstein was selected following an extensive search process begun last spring by UJA-Federation with a search committee composed largely of members of the Board of Directors and chaired by Doctoroff, with support from the global search firm Korn Ferry. Candidates were considered from around the world, representing diverse professional backgrounds across the spectrum of private and nonprofit secular and Jewish communal organizations. Goldstein was the unanimous choice of the search committee and was elected at the Board of Directors meeting held on January 23, 2014 at UJA-Federation of New York's Manhattan headquarters.
Goldstein said, "I've loved my career at Paul, Weiss. And I will be forever grateful to my law partners for having been so supportive of me for the more than 30 years I've been at the firm. But it's a rare opportunity to assume a role that's so meaningful and to become involved full-time in the sacred work of helping those in need, and working to secure and strengthen the Jewish future."
"Mr. Goldstein has inspired great confidence in his ability to work effectively with the many groups we represent. He is a master strategist and has impeccable judgment. You can always depend on him to think about all angles of an issue and come to the right decision. With today's election, we begin the transition to an exciting era of new leadership," concluded Doctoroff.