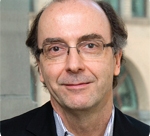 The Tinker Foundation is pleased to announce the election of Bradford K. Smith to its Board of Directors. Smith is currently the President of the Foundation Center, the foremost knowledge center on philanthropy in the United States.
Long recognized as the leading authority on organized philanthropy in the U.S., the Foundation Center is increasingly becoming a go-to resource internationally for data collection techniques and analyses on giving.  Under Smith's leadership, the Center has moved into the role of collaborator and facilitator to groups worldwide, as in two recent projects providing technical assistance in the development of a nonprofit center for philanthropy in China and working with partners in Mexico to create the Mexican Foundation Finder.
A lifelong advocate for the civil society sector, Smith has held various roles through the years, most recently serving as President of the Oak Foundation in Switzerland. Smith also led the Ford Foundation's Brazil office, playing a key role in bringing together a formal association for Brazilian philanthropies. He continued his tenure at the Ford Foundation in its central office, overseeing the development of GrantCraft (a popular professional development resource for philanthropic staff) and integrating Ford's domestic and international grantmaking into a single Peace and Social Justice Program with 13 offices around the world. His unique perspective bridges the usual divides between nonprofits and foundations. 
"We are proud to welcome someone as experienced and thoughtful as Brad Smith to our Board," said Renate Rennie, Chairman and President of the Tinker Foundation. "He is a leader on the cutting edge of the use of technology and big data to bolster the work of nonprofits around the world, and his considerable experience in Latin America's civil sector will be a particular asset to us at the Tinker Foundation."