Wednesday, August 23, 2017
Suzanne C. Sousa Steps Into New Role as Executive Director of the Stella and Charles Guttman Foundation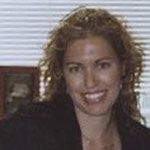 Suzanne C. Sousa has been appointed Executive Director of the Stella and Charles Guttman Foundation. She previously served as the Foundation's Senior Program Officer.  Elizabeth Olofson has stepped aside as Executive Director and has been designated Senior Philanthropic Adviser.  
"The Board of Directors are extremely grateful for Elizabeth Olofson's nearly thirty years of service to the Foundation, said Board President, Susan Butler Plum. The Board appreciates Elizabeth for all that she has done and will continue to do, as she makes her experience and judgment available to the Foundation. The Board is confident that the staff will continue to provide stewardship over several strategic programs and bring the Board new possibilities to support as well."
Upon accepting the position, Ms. Sousa noted, "The Guttman Foundation has and will continue to play a vital and strategic role in strengthening the well-being of the youngest children and their families living in New York City.  I am honored to have the opportunity to continue the charitable legacy of Charles Guttman and his wife, Stella – a legacy that has, at its heart, the ethic of people helping others in need."
Before joining the Guttman Foundation, Ms. Sousa was Director of Development and Special Projects at New York City's Administration for Children's Services (ACS).  In this role, she served as the lead liaison to the philanthropic community as well as several state and federal agencies and secured and managed millions in funding for several strategic initiatives.  She had first served as the agency's Director of the Central Mentoring Office where she oversaw efforts towards expanding mentoring opportunities for children and youth in foster care.  Before joining ACS, Suzanne held senior director positions at the National Guild for Community Arts Education and The Peter F. Drucker Foundation in New York City.  She also worked as a Communications Advisor with UNICEF Brasil in Rio de Janeiro and served as an AmeriCorps member with an environmental group in New Jersey.  
 
Suzanne holds a B.A. in Art History and Geography from Rutgers University and a M.S. in Public Policy and Management from Milano The New School University.