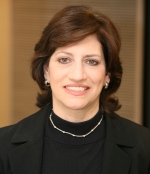 Susan G. Komen's Board of Directors has named Judith A. Salerno, M.D., M.S., as the organization's new President and Chief Executive Officer. Salerno is currently Executive Director and Chief Operating Officer of the Institute of Medicine of the National Academy of Sciences and is widely regarded for her expertise in medical research and healthcare policy, and for developing and implementing innovative public health programs. As President and CEO, Dr. Salerno will be responsible for the daily operations of Komen's worldwide network, which includes more than 120 Komen Affiliates serving millions of women through community health and education programs all around the world.
"Judy's years of proven leadership in public policy and research make her the right choice to lead all aspects of Komen's mission," said Komen Board Chairperson Linda Custard. "We are delighted that she will be heading our leadership team and guiding Komen now and into the future."
Dr. Salerno has served in executive, operational, research and public policy roles at the Institute of Medicine (IOM), the National Institutes of Health (NIH), the National Institute on Aging (NIA), the U.S. Department of Veterans Affairs (VA) and with community health and research organizations. Her appointment follows an executive search that began last August, when Komen Founder Nancy G. Brinker announced that she would move from the CEO position to a new role focused on global mission and development. Brinker's new title is Founder and Chair of Global Strategy.
"Judy is an excellent choice. She is very well-known and highly respected as both a scientist and an innovator in public health. I'm thrilled that she is joining Susan G. Komen as President and CEO, and I am looking forward to her leadership as we continue to seek cures for breast cancer and serve the people who need Komen's help today and into the future," Brinker said.
"Susan G. Komen is one of the truly transformational organizations in the world," said Dr. Salerno. "Komen's commitment has helped countless numbers of low-income and medically underserved women and men get care they might otherwise have gone without, and Komen's research program is one of the most highly respected in the nation, if not the world. I am very much looking forward to joining this great organization and working with our staff, Affiliate Network, advisory boards and supporters in this mission to end breast cancer."
As Executive Director and Chief Operating Officer of the IOM, Dr. Salerno is responsible for managing its policy and research programs and guiding the Institute's day-to-day operations. In that role, she also oversees the National Cancer Policy Forum — a consortium of government, industry, academic, consumer and other representatives that identifies and examines emerging high-priority policy issues in cancer.
As Deputy Director of the NIA, Salerno oversaw research into aging and designed public-private initiatives to address issues in aging, as well as programs to communicate health and research advances to the general public. Before joining NIA, she was Director of the Geriatrics and Extended Care programs for the VA, where she launched national initiatives for pain management and improving end-of-life care.
Dr. Salerno is board-certified in internal medicine and earned her M.D. from Harvard Medical School in 1985 and a Master of Science degree in Health Policy from the Harvard School of Public Health in 1976. She continues to see patients as a volunteer physician.