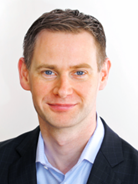 Stonewall Elects Neill Coleman as President
In September, our Board of Directors elected Neill Coleman as President, succeeding Dante Mastri, who held the post for four years and guided the foundation through an important leadership transition.
Neill is a Vice President at The Rockefeller Foundation, heading up global communications.
He brings tremendous experience to this new board role, as well as extensive relationships in the field of philanthropy.
Prior to joining Rockefeller, Neill was Chief External Affairs Officer at the US Department of Housing and Urban Development during the first term of the Obama Administration.
He has also served on the boards of other LGBTQ nonprofits, including NYC's Stonewall Democratic Club and SMYAL in Washington, DC.