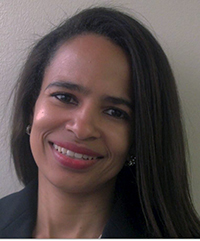 Sharrie McIntosh Named New York State Health Foundation's Vice President For Programs
May 25, 2016 (New York) – The New York State Health Foundation (NYSHealth) has named Sharrie McIntosh its new Vice President for Programs, effective June 13th. Ms. McIntosh currently serves as Senior Vice President and Chief Program Officer at The Arnold P. Gold Foundation and previously was a Vice President at The Lewin Group and the Affiliations Administrator at NYU School of Medicine/Langone Medical Center.
"Sharrie McIntosh is a seasoned executive with deep knowledge of health and philanthropy," said David Sandman, President and CEO of the New York State Health Foundation. "Her passion for and expertise in both public health and health care delivery make Sharrie a perfect fit for NYSHealth. Her work related to patient-centered care and outcomes, cultural competency, and behavioral health services for returning veterans and their families positions her well to hit the ground running."
"I'm excited for this new opportunity to make a difference in the lives of the most vulnerable New Yorkers," said Ms. McIntosh. "NYSHealth has ambitious priorities: building healthy communities and empowering health care consumers. I'm eager to contribute to this important work to ensure New Yorkers and their communities are as healthy as possible, get the care they need when they're sick, and feel engaged in their health care experience."
As Vice President for Programs, Ms. McIntosh will play a leadership role in developing and implementing the Foundation's goals and strategies. A key advisor to the President and CEO, she will also have a central role in further developing the Foundation's program areas; identifying emerging opportunities and strategic niches; building partnerships with other foundations; ensuring quality and accountability; and evaluating the performance of programs and grantees.
At The Arnold P. Gold Foundation, Ms. McIntosh serves on the executive team and is responsible for managing and developing programs that align with the foundation's mission to instill a culture of respect, dignity, and compassion for patients and health care professionals. In her earlier work at The Lewin Group, a premier health and human services research, evaluation, and consulting firm, she worked with a wide range of clients, including government agencies, hospitals, and foundations.
Ms. McIntosh also worked as the Affiliations Administrator at the NYU School of Medicine/Langone Medical Center, where she was responsible for managing its affiliation agreement with NYC Health + Hospitals.
Born in Jamaica and raised in the Bronx, Ms. McIntosh received her undergraduate degree from the University of Virginia and her Master's in Health Administration from the Pennsylvania State University.