Tuesday, November 4, 2014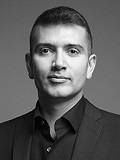 Rohit Burman Appointed Executive Director, Global Philanthropy and Corporate Citizenship, Estée Lauder Companies
Rohit Burman has been appointed Executive Director, Global Philanthropy and Corporate Citizenship, Estée Lauder Companies. In his new role, Rohit will work on designing and implementing a global corporate citizenship strategy for the company, encompassing all philanthropic, cause-marketing, employee engagement and product donation programs.  
Most recently, Rohit held the position of Executive Director, Europe, the Middle East, and Africa (EMEA) for the M•A•C AIDS Fund.  In addition to developing and managing the Fund's portfolio across the EMEA region, Rohit played a key role in the design and launch of the Fund's rigorous metrics and evaluation processes.  
Rohit has over 15 years of experience in the non-profit and corporate philanthropy field.  Prior to joining the M•A•C AIDS Fund, Rohit held the position of Director at MetLife Foundation. He has also held positions at J.P. Morgan's Philanthropic Services Group, Columbia University, and IUCN-The World Conservation Union.  
Rohit currently serves on the Board of Directors of Philanthropy New York and Funders for LGBTQ Issues as well as the Steering Committee of the Africa Grantmakers' Affinity Group. Rohit is a graduate of The College of Wooster and received his Master's of Public Policy from Georgetown University.