Tuesday, September 16, 2014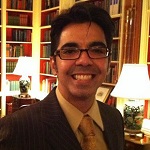 Rockefeller's Edwin Torres Joins the de Blasio Administration
Edwin Torres, formerly associate director at the Rockefeller Foundation, will join Mayor de Blasio's Administration as Deputy Commissioner of Cultural Affairs. He will be serving under the new Commissioner for Cultural Affairs, Tom Finkelpearl. The New York City Department of Cultural Affairs is the largest local cultural funding agency in the United States.
During his time at Rockefeller Foundation, Torres helped make New York a nationally-recognized leader in wage-theft prevention; helped prevent the evictions of hundreds of public housing residents; helped place hundreds of low-income residents in jobs; and advanced paradigmatic change such as the collective impact approach for homelessness-prevention and crime-reduction.
Under his leadership, The Rockefeller Foundation's support for culture has helped supply over $800,000 in goods and services to art-making through on-line barter; increase artists' earned income by 150%; triple the rate of participation in New York State Energy Research and Development Authority (NYSERDA) residential energy-efficiency programs in Brooklyn; influence NYC Department of Housing Preservation and Development to partner with applicants and residents as well as NYC's design community to develop new communication tools and services; and advance paradigmatic change such as that of naturally-occurring cultural districts.
Prior to joining The Rockefeller Foundation, Mr. Torres was Director of External Partnerships for Parsons the New School for Design. He has also served on the Arts and Culture team at The Ford Foundation. Mr. Torres holds a Master of Arts in Art History from Hunter College and a Master of Science in Management from The New School.