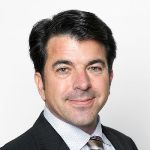 Dr. Judith Rodin, President of The Rockefeller Foundation, has announced that Dr. Fred Boltz has been appointed to the role of Managing Director and will lead the Foundation's global work related to ecosystems. Dr. Boltz will be based in New York.
Dr. Boltz, a natural resource economist by training, has more than 20 years of experience in sustainable development, environmental science, policy and practice. Dr. Boltz joins The Rockefeller Foundation from Conservation International (CI), where he was most recently their Senior Vice President for International Policy, serving as the chief officer for global climate change, freshwater and food security, biodiversity and sustainable development policy. Since 2008, he also served as CI's Climate lead, guiding the institution's science, policy, financing and implementation of climate change programs.
"I am thrilled to welcome Fred to The Rockefeller Foundation," Dr. Rodin said. "His scientific expertise in economics and ecology, combined with his practical knowledge of climate change, freshwater and food security issues, will be a significant contribution to the Foundation as we expand our investments in revaluing ecosystems, and promoting natural capacity to sustain human well-being."
Dr. Boltz has deep experience implementing programs in Africa, Asia and South America. For much of the last decade, Dr. Boltz served as CI's lead technical advisor on conservation strategy and practice, providing guidance to staff and partners in over 30 countries on marine and terrestrial conservation, community-based conservation, ecotourism and enterprise development. In 2002, prior to joining CI, Dr. Boltz worked on a post-genocide recovery effort in Rwanda, where he designed a program of economic revitalization in communities buffering the Nyungwe National Park. His immersion in development practice traces to 1992, when Dr. Boltz established CI's first protected area conservation and rural development project in the eastern rainforest of Madagascar.
"The Rockefeller Foundation has long been a leader in global philanthropy and international development. Its legacy in economic and social innovation and pioneering food security efforts are unparalleled. I am honored to join the Foundation's remarkable team, to contribute to their visionary agenda for resilience and equitable growth, and to have the privilege of providing leadership for their new revalue ecosystems focus," said Dr. Boltz.
Dr. Boltz holds a Ph.D. in Natural Resources Economics from the University of Florida, and earned his B.A. in East Asian Studies from Duke University. He has published actively in leading economic and environmental journals and has co-edited current books on climate change and ecosystem services. A native English speaker, Dr. Boltz is fluent in both French and Spanish, and conversant in Portuguese, Malagasy and Mandarin.