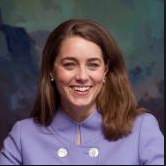 Robertson Foundation Executive Director Phoebe Boyer To Become CEO Of Children's Aid Society
Phoebe Boyer has been named president and chief executive officer of the Children's Aid Society, and the first woman to serve in these roles.
Boyer, currently 
executive director of the Robertson Foundation,
 takes over on October 1, succeeding Richard Buery Jr., who became Deputy Mayor to Mayor Bill de Blasio earlier in the year.
Since 2003, Boyer has been responsible for the overall management of the Robertson Foundation, 
a $1 billion family foundation created by Julian H. Robertson Jr. and his family that takes a targeted approach to supporting critical national issues, including education reform. 
 She also is the former executive director of the Tiger Foundation, where she served in that role for 12 years. 
Also founded by Julian Robertson, 
Tiger Foundation's mission is to break the cycle of poverty in New York City. During her tenure, the foundation provided more than $112 million in funding to NYC nonprofits in the areas of education, youth development, job training, and social services.
Before her work with foundations, Boyer was the assistant executive director at Inwood House, a nonprofit in Upper Manhattan, where she spent four years working to help distressed teens take charge of their lives by educating them in making sound decisions, preventing pregnancy, and building self-esteem.  
Boyer also has experience working in NYC government, first at the Department of Corrections, managing emergency prison construction and other related projects. She then went to the Department of Transportation's Bureau of Bridges, where she rose to the position of Deputy Director of the Management Analysis Unit.
Boyer earned her master's degree in public-nonprofit management from Columbia Business School. She received her bachelor's degree from Wesleyan University.