Monday, September 8, 2014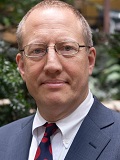 PNY Board Member Kenneth T. Monteiro Appointed General Counsel and Vice President of Ford Foundation
The Ford Foundation has announced the appointment of Kenneth T. Monteiro as its next Vice President, Secretary of the Board, and General Counsel. Mr. Monteiro will succeed Ricardo Castro in the role and also serve as an officer of the foundation.
Monteiro joined the foundation in 1995 as resident counsel and most recently held the position of Assistant Secretary and Deputy General Counsel.
Prior to joining the Foundation in 1995, Monteiro was an Associate at Debevoise & Plimpton. He is on the board of Philanthropy New York and serves on the Government Relations Committee of the Non-Profit Coordinating Committee.
Mr. Monteiro earned his law degree from Boston University School of Law and received his B.A. in International Relations and Political Science from Boston University. He has also served on the boards of the Bronx Academy of Arts and Dance, the New York City Gay and Lesbian Anti-Violence Project, the Innovation Center for Community and Youth Development and the Lesbian and Gay Law Association Foundation of Greater New York.