Wednesday, January 18, 2017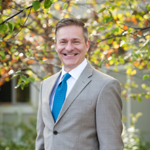 Paul Di Donato Announced as New President and CEO of Proteus Fund 
Amherst, MA – January 17, 2017 – Proteus Fund has appointed activist, advocate, nonprofit executive, and philanthropic leader Paul Di Donato as its new President and CEO. Paul brings a wealth of experience from his 30 years of fighting for justice and equality in the areas of LGBTQ rights, HIV/AIDS and public health, gender and racial justice, and other rights and social change issues. Paul has served as interim President of Proteus Fund for the past year and worked at the organization for more than nine years.
In his time at Proteus Fund, Paul helped the organization achieve great feats of social progress. Paul served for eight years as Director of the Proteus Fund's Civil Marriage Collaborative (CMC), a funder collaborative which granted over $21 million in its 11-year existence to advocacy organizations engaged in comprehensive public education and organizing efforts. The strategic philanthropic leadership provided by the CMC contributed significantly to the massive turnaround in public opinion and support on this critical issue and helped lead to the momentous June 2015 Supreme Court ruling extending marriage equality nationally.
"We couldn't have asked for someone with greater philanthropic, leadership, and networking skills, combined with a deep understanding of Proteus' social justice work," said Jason Franklin, Chair of Proteus Fund's Board of Directors. "Paul played a central role on a critical issue where our side had a clear win – civil marriage. Philanthropy must play an even greater and more aggressive leadership role to achieve these types of victories which will be needed now more than ever," said Franklin.
This past year as interim President, Paul has successfully overseen a record-breaking grantmaking year, a deepening of the scope and impact of their program portfolio, and development of important new work opportunities. He feels that the organization's greatest strength is that it engages philanthropists as strategic partners, utilizing a collaborative approach to create outcome-oriented social justice grantmaking initiatives. Paul notes, "of central importance to our success is the ability to master the delicate balance between crafting and executing effective long-term philanthropic strategies while remaining flexible enough to shift tactics and priorities in response to evolving circumstances on the ground."  
Paul is excited to lead Proteus Fund and continue his passionate commitment to the organization's work. "Every program, every issue area we work on is more relevant and urgent than ever given this current social, economic, and political climate. I look forward to working with all our partners as well as the Proteus staff and Board to not only address but realize the greatest impact possible on a full range of social justice issues. 2016 realized the largest grantmaking totals in our Fund's history, and I'm confident 2017 will bring even greater successes."
About the Proteus Fund
Proteus Fund is a public foundation whose mission is to work with philanthropic individuals and institutions to advance democracy, human rights and peace for all. We've been a national leader in social justice philanthropy for over two decades. Our work sits at the nexus of philanthropy and social change advocacy, enabling foundations and individual donors to pool their philanthropic dollars to create outcome-oriented social justice initiatives. 
To fulfill our mission, we: convene and manage Donor Collaboratives that combine and maximize philanthropic resources to create efficient, strategic grantmaking programs that significantly advance progress in a chosen issue or field; provide a home for cutting edge initiatives through Fiscal Sponsorships; manage Donor Advised Funds and Family Foundations; and support social justice lobbying through Proteus Action League grants.