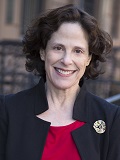 A message from PNY President Ronna Brown, published originally in the New York PhilanthroPost Monthly March 2015 edition.
Learning opportunities are among the Philanthropy New York services that members tell us they value most. Last year PNY produced well over 120 events, covering topics like human trafficking, Common Core, arts in grantmaking, services for vulnerable youth and immigrants' rights, among others. You might wonder how we can offer so many programs with such a small staff, and I can honestly say it would be impossible without help from colleagues like you.
Sometimes, we conceptualize, plan and produce a program from the ground up, completely in house, but often, we work with members, as well as affinity and working groups, to provide content that is pertinent to the philanthropic community. We are fortunate to have so many partners, because it gives us the ability to expand the scope, breadth and depth of the programming we are able to feature.
In the month of March, we have several examples that demonstrate the importance of collaboration when planning learning sessions. On March 12, we continue the eighth season of our film series with the Ford Foundation by screening Difret, a narrative motion picture about a 14-year-old Ethiopian girl who is abducted by a group of men in an attempt to force her into marriage. Working with Ford has given us the opportunity to showcase award-winning films that cover topics that span a range of funder interest areas like food security, social justice, technology and LGBTQ rights, and that's just from films shown in the last six months.
On March 16, we will be discussing the modern food system and how it has led to the highest levels of global inequality in economic history. "Food Systems and Movements" was developed as part of a collaboration with Community Food Funders, a local working group that champions the creation of an economically robust, responsible, regional food system.
On March 25, we will host "Beyond Gender Equity: How Philanthropy is Taking Gender Norms into Account," which is a member briefing where typically several members create a program that tackles issues that of interest to other funders. For member briefings, we often just provide logistical support during the event, because the bulk of the planning is done by the members.
These are just a few examples of the collaborative programming we're producing this month. Please click here for a comprehensive list.
Our sessions offer funders the opportunity to create connections outside of their silos and approach topics from a previously unexplored perspective. As we continue to expand our offerings, we will look for more ways to partner with other organizations and groups to address issues that are critical to the work of grantmakers. We absolutely can't produce the programs we do without the many members, working groups and affinity groups who help us formulate and execute them. Please keep coming to us with your essential ideas!
Best Regards,
Ronna