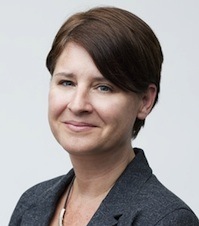 NPCC Names Sharon Stapel as New President and Executive Director
In welcoming Ms. Stapel, Ian Benjamin, the Chair of the Board, said, "We look forward to the enthusiasm, expertise and passion that Sharon brings to the Nonprofit Coordinating Committee, and know that she will build on its firm foundation. Sharon's success in leading and growing a nationally-recognized nonprofit organization is extraordinary, and will serve as a model for all the nonprofits who are current and future members of the Nonprofit Coordinating Committee."  Karen Pearl and Bobby Watts who co-chaired the search committee added, "After undertaking a thorough search that produced a number of highly qualified candidates, we were delighted that Sharon agreed to bring her vision, leadership and experience in strategic thinking and coalition-building to the Nonprofit Coordinating Committee."
Ms. Stapel is currently Executive Director of the New York City Gay and Lesbian Anti-Violence Project (AVP), the nation's largest LGBTQ and HIV-affected anti-violence program. She was named a White House Champion of Change and was recognized by President Obama for her advocacy work.  Prior to joining AVP, Ms. Stapel worked with South Brooklyn Legal Services, the Legal Aid Society, and the Street Law Project of the National Lawyers Guild.  Ms. Stapel is a graduate of CUNY School of Law and the University of Massachusetts, Amherst, and has served as an adjunct professor at CUNY School of Law and Hunter College.  
Ms. Stapel said, "I'm excited to lead an organization that is vital to the success of New York's nonprofits.  NPCC's advocacy work and management support services have enabled their member groups - and the entire sector - to thrive.  I'm grateful to Michael Clark for his stewardship of this effective organization and I look forward to working with the amazing staff to do even more."
Ms. Stapel is replacing Michael E. Clark, who has served as President and Executive Director of NPCC for the past 10 years. Mr. Benjamin thanked Mr. Clark for his years of outstanding service, stating, "Michael Clark has served the New York area nonprofit community extraordinarily well for over 40 years, culminating with the last decade at the helm of NPCC.  We are grateful for his service and commitment to our member organizations and the nonprofit sector. Michael is leaving a strong organization, and we wish him well in his next endeavors." Mr. Clark is stepping down on September 30, 2015 to pursue part-time opportunities that will allow him to continue to contribute his rich experience and deep expertise to the nonprofit sector.