Friday, December 16, 2016
 Noa Meyer Joins Brooklyn Community Foundation's Board of Directors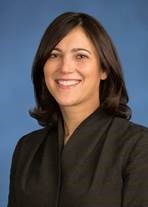 Brooklyn Community Foundation is pleased to announce the election of Noa Meyer to its Board of Directors, effective November 18, 2016.
Ms. Meyer is the Managing Director and Head of Philanthropic Initiatives for BDT & Company, a merchant bank that provides advice and capital to family-owned companies. Prior to joining BDT, she was a Managing Director at Goldman Sachs where she served as the global head of 10,000 Women, an initiative that fosters economic growth by providing women entrepreneurs around the world with a business and management education, mentoring and networking, and access to capital.
"Noa Meyer is an outstanding addition to Brooklyn Community Foundation's leadership team," said Board Chair Alan Fishman. "We look forward to calling upon the immense insight and expertise that she has developed at the global level to help steer our growing institution and take on the challenges facing Brooklyn's communities today and into the future."
Ms. Meyer added, "Brooklyn Community Foundation's catalytic role in supporting equality and justice for all of Brooklyn's residents serves as a model for high impact philanthropic leadership and community collaboration. I'm honored to join the Foundation's distinguished board to support an organization whose work strengthens our core values as Americans."
Ms. Meyer brings deep foundation and nonprofit experience to Brooklyn Community Foundation's Board of Directors, including work on behalf of the Open Societies Institute and the Markle Foundation. She began her career in Washington, DC where she held several positions in the Clinton Administration, first in the speechwriting office of First Lady Hillary Rodham Clinton and then at the United States Agency for International Development focused on political development in the Balkans. She is currently a term member at the Council on Foreign Relations.
A long-term Brooklyn resident, Ms. Meyer was a member of the review committee for the Foundation's inaugural Spark Prize for Brooklyn nonprofits, which will award a total of $500,000 to five outstanding institutions in the borough in January 2017.
Launched in 2009 as the first and still only foundation for New York City's largest borough, Brooklyn Community Foundation mobilizes people, capital, and expertise to achieve its vision of a fair and just Brooklyn. The Foundation's now 15-member Board of Directors stewards its strategic grantmaking and special initiatives as well as the growth of its philanthropic assets to benefit Brooklyn communities.