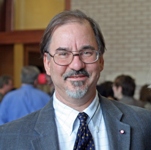 The William T. Grant Foundation is pleased to announce the appointment of Adam Gamoran as its new president. He is currently the John D. MacArthur Professor of Sociology and Educational Policy Studies and Director of the Wisconsin Center for Education Research at the University of Wisconsin–Madison. Dr. Gamoran will begin his tenure with the Foundation in September 2013. He succeeds Robert C. Granger, who has served as president since 2003.
"I am delighted that the Board has made such a terrific choice and that Adam has agreed to become the Foundation's ninth president since our start in 1936. Throughout his career, Adam has pursued important questions, with a deep commitment to doing first-class science in the public interest. He inherits a healthy organization, and he will make it even better," said Granger.
Dr. Gamoran's main research interests — school reform and inequality in education — are well-aligned with the Foundation's commitment to supporting research that improves the lives of youth. The Wisconsin Center for Education Research, which he has led for the past nine years, is the nation's oldest and largest university-based education research center, with over 450 employees and an annual budget that exceeds $45 million. He stated, "I am honored to be selected to serve as President of the William T. Grant Foundation. This organization has a long history of high-impact grantmaking, which has resulted in real improvements in policies, programs and practices that help young people thrive, especially those who face challenging circumstances. I am privileged to have the chance to carry on this legacy."
An elected member of the National Academy of Education, Dr. Gamoran was appointed by President Obama to the National Board for Education Sciences in 2010. He chaired the Independent Advisory Panel of the National Assessment of Career and Technical Education for the U.S. Department of Education, and he was a member of the National Research Council's Board on Science Education. In 2011, he led a Board committee that produced the influential, widely read report "Successful K-12 STEM Education: Identifying Effective Approaches in Science, Technology, Engineering, and Mathematics." Dr. Gamoran edited the 2007 book Standards-Based Reform and the Poverty Gap: Lessons for No Child Left Behind and has published in academic journals including the American Sociological Review, Educational Evaluation and Policy Analysis and Sociology of Education. He received his doctorate in Sociology of Education from the University of Chicago.
Henry Gooss, Chair of the Foundation's Board, said "Professor Adam Gamoran's appointment represents the successful culmination of a comprehensive search process. Our current president, Bob Granger, has provided exceptional leadership for more than 10 years and pursued a focused approach to our support of youth-related research. We are confident that Dr. Gamoran will innovatively build upon that solid base."