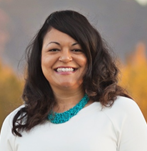 Nathan Cummings Foundation Names Artealia Gilliard as its First Director of Communications 
Today, the Nathan Cummings Foundation announced that Artealia Gilliard will join the Foundation as its first Director of Communications. In this role, Gilliard will be a key member of the leadership team supporting the Foundation and the work of NCF grantees and Fellows to advance innovative and visionary solutions to the two most challenging problems of our time – the climate crisis and growing inequality. 
Gilliard brings 15 years of experience in the Foundation's focus areas, developing strategic communications, and leading policy initiatives and partnerships at the intersection of social, economic and environmental equity. Most recently she was a member of the Obama Administration where she served as Deputy Assistant Secretary of Transportation Policy at the Department of Transportation and she led efforts to create resilient communities connected to economic opportunity. Before that she worked in Alaska for the Bureau of Land Management, where she helped amplify the voices of local and Alaska Native communities in natural resource management and energy development decisions. In Atlanta, she led social justice and community outreach programs for the DeKalb County Solicitor-General and District Attorney, including a special grand jury investigation of officer-involved shootings, and was a spokesperson for the Centers for Disease Control and Prevention during the height of the H1N1 pandemic flu crisis. 
"Artealia is a wonderful match for what Nathan Cummings needs at this time. She is passionate about social justice, has a strong track record of building relationships, and is an expert at harnessing the power of storytelling to bridge divides," said Nathan Cummings Foundation President and CEO Sharon Alpert. "In this historic time, NCF is committed to raising its voice alongside grantees and partners working in the field, and Artealia will play an important role enabling the Foundation to stand up for its values and promote the truth in an era of 'alternative facts'." 
"Philanthropy is a powerful catalyst for innovation and change in this country, and NCF stands out among their peers because they are bold and not afraid to take risks," said Gilliard. "They have assembled a team of transformational leaders who are passionate about these issues and believe in supporting people working on the front-lines of these issues for the long haul. They understand the power of communication, and I am inspired by their resolve to create sustainable, visionary change." 
Gilliard is a native Texan, and while growing up in Houston and San Antonio, she experienced the nature of structural inequality, and how changing weather patterns, floods and other natural disasters impact poor communities and people of color. Her personal experiences help her meet people where they are and create narratives around inequality and climate change that are authentic and compelling. 
Gilliard earned a Master of Science in Communications Management from Syracuse University, a Master of Public Administration from Capella University and a Bachelor of Science in Communication from the University of Texas at San Antonio. 
The Nathan Cummings Foundation partnered with Koya Leadership Partners, a leading executive search firm that works exclusively with nonprofit clients, to conduct a national search for the Director of Communications.