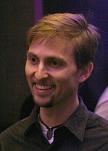 Journalist, journalism trainer, and digital strategist Kevin Anderson is joining the Media Development Loan Fund to help lead their work assisting clients to make the digital transition.
Anderson will be Editor of the Knowledge Bridge, a blog, digital resource center, and newsletter—to be launched in May 2012—that will capture the best in actionable digital business and editorial strategy for news media in the Majority World. He will also help identify clients' wider digital capacity-building needs and deliver targeted training.
After starting his journalism career in newspapers, Anderson shifted to digital journalism in 1996. In 1998, he became the first online journalist for the BBC outside of the U.S., based in the BBC's flagship Washington bureau. He joined The Guardian in 2006 as their first blogs editor. Two years later, he became Digital Research Editor at the newspaper, helping identify and implement new technologies to support the newspaper's world-class journalism.
In March 2010, Anderson became an independent journalist and strategist. He has worked with journalists and news organizations around the world, including Al Jazeera and Reed Business Information, to prepare them for the digital future, while continuing his work in journalism, providing frequent comment on technology issues for the BBC and Al Jazeera.