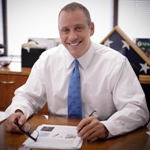 The Arcus Foundation has announced that Jeff Trandahl has joined its Board. Trandahl is the Executive Director and CEO of the National Fish and Wildlife Foundation (NFWF), where he leads efforts to protect and restore native species and habitats in the United States. Created by Congress in 1984, NFWF directs public conservation dollars to the most pressing environmental needs and matches those investments with private funds. Prior to his leadership at NFWF, Trandahl served on Capitol Hill for 23 years.
During his tenure on Capitol Hill, Trandahl was elected Clerk of the U.S. House of Representatives, a role in which he served from 1998 to 2005. He was the second-highest constitutional official in the U.S. House of Representatives and served as the chief legislative official. Prior to his election as Clerk, he served members of the House and Senate in a broad range of staff assignments.
"Jeff is an esteemed national leader in conservation, and has diverse experiences in the nonprofit, for-profit and governmental sectors," said Jon Stryker, Arcus' founder and Board President. "He will add tremendously to the Board, and we are excited about working with him."
"Arcus is in a position to make great contributions to progress through its integrated approach to diversity, social justice and conservation," said Trandahl. "Its LGBT and conservation work have long been of great interest to me as both are aligned with my own professional and personal commitments. I look forward to working with the Board and supporting the staff in advancing Arcus' mission."
Trandahl earned a B.A. in Government and Politics from the University of Maryland in 1987 and a Certificate in Management from the John F. Kennedy School at Harvard University. He currently serves on the boards of the Gill Action Fund, Jones Group and Arise Corporation.