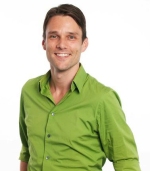 Jay Geneske became the Rockefeller Foundation's first New Media Director in December 2012. He will devise and implement an online media strategy for the foundation's Centennial in 2013 and pioneer new ways to hear and share innovative ideas and perspectives on serving the needs of poor or vulnerable people in a time of rapid change.
Geneske previously served as the Director of Online Communications for Echoing Green, a global nonprofit that provides seed capital and support to early-stage social entrepreneurs. At Echoing Green, he was responsible for developing and implementing the organization's digital media and online fundraising strategy and creating cross-platform marketing campaigns. Geneske has also served in new media roles in the cultural organization sector, including Carnegie Hall, Shedd Aquarium and Steppenwolf Theatre. His work has been featured in The New York Times, AdAge and Crain's.
Geneske holds a Bachelor's degree from Drake University and has studied digital design and production at New York University.