Tuesday, February 9, 2016
James Short Named Program Director for Teaching and Human Capital Management at Carnegie Corp.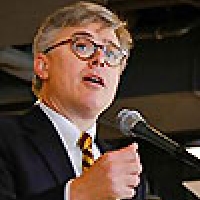 Carnegie Corporation of New York has named James Short Program Director of the foundation's Teaching and Human Capital Management portfolio of grants. He will join the Corporation on April 11. 
An educator with nearly 30 years of experience, Short is an expert in teacher education and professional development. He comes to the Corporation from the American Museum of Natural History in New York City, where he was the founding director of the Gottesman Center for Science Teaching and Learning, a role he began in 2007. Short led the museum's efforts to strengthen science education programs at local and national museums, nonprofit organizations, schools and school districts, including the New York City Department of Education.
"Throughout his career, Jim Short has demonstrated a dedication to science education and teacher development," said Vartan Gregorian, President of Carnegie Corporation of New York. "At the American Museum of Natural History, he established a model for the great work museums can do to support teachers and cultivate a love of science among students and the community at large."
At the Gottesman Center, Short's major initiatives included overseeing the design and implementation of the Urban Advantage program in New York City, a museum and school partnership underway in nearly half the city's middle schools that supports long-term science investigations and project-based learning by students. He was also on the faculty of the museum's Master of Arts in Teaching, a first-of-its kind urban teacher residency program for developing certified Earth Science teachers for work in struggling secondary schools.
"We have had the pleasure of seeing Jim in action as an important partner at the museum and consider him a strategic thinker in the development and implementation of programs that advance the skills, knowledge, competencies and practices of educators," said LaVerne Evans Srinivasan, Vice President, National Program, and Director, Education, at Carnegie Corporation. "His rich experience in teacher professional development makes Jim well suited for the Corporation's focus on preparing teachers and leaders for the challenges of urban classrooms and schools, particularly at the secondary level."
Previously, Short spent 10 years teaching in K-12 schools.  While working in the Denver Public School System, he led the redesign of the K-12 science program, and at the Biological Sciences Curriculum Study in Colorado, he directed a national science curriculum and implementation center. His professional development experience includes working with school systems and science teachers from several urban school districts nationwide. In recent years, Short focused on helping teachers translate the Next Generation Science Standards into classroom instruction and assessments, and incorporating nonfiction reading and writing strategies aligned with Common Core State Standards.
"Teaching has been the foundation of my career starting as a high school science teacher and then shifting to support the learning of others in education," said Short. "I've had the opportunity to lead the development of curriculum and teacher professional development reforms at the district level in Denver, to work as an informal partner with the New York City Department of Education, and to teach on the faculty of a non-traditional teacher preparation program.  Building from these experiences, I look forward to helping advance education reforms through the Corporation's investments in teaching and human capital."
Short earned a Doctor of Education degree from Columbia University's Teachers College, a Master's of Education degree from Vanderbilt University's Peabody College, and a Bachelor of Science degree in Biology from Rhodes College.