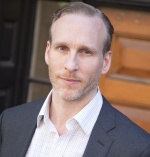 Get to Know Your PHIL Talkers
by Michael Hamill Remaley, Senior Vice President, Public Policy & Communications, Philathropy New York
This piece was originally published as the feature article of the May 2017 New York PhilanthroPost Policy Edition
We first started experimenting with our PHIL Talks format at the Philanthropy New York annual meeting in 2013, when we were focused on Hurricane Sandy recovery and we had a research scientist from Columbia University's Goddard Institute for Space Studies walk us through a multimedia presentation of the rising waters threating our city.  It was an immensely compelling, visually arresting talk that engaged our members differently from the panel discussions that are the backbone of our programming throughout the year. 
Our members told us that year – and every year since – that the PHIL Talks are among their favorite parts of the annual meeting.  Since then, we have always dedicated time in the program to providing space for at least three provocative leaders who are deeply connected to the issue of the day to tell their stories. Some of our favorites have included Janet Mock on gender justice, Glenn Martin on #CloseRikers and Rana Sabbagh on investigative reporting in Arabic-speaking countries.
I predict that the PHIL Talks presenters at this year's 38th Annual Meeting on June 16 will bring especially trenchant insights and unexpected revelations on the topic of "The Power of Participation: Democracy Building Now." They include:
Afua Atta Mensuh, Executive Director, Community Voices Heard 
Jeff Jarvis, Professor, CUNY Graduate School of Journalism, Director of the Tow-Knight Center for Entrepreneurial Journalism/Director, News Integrity Initiative
Katy Rubin and Devyn Mañibo, Executive Director and Community Engagement Coordinator, Theatre of the Oppressed NYC 
I have seen Afua speak about her member-led, multi-racial organization's work growing the leadership voices of women of color and low-income families in New York State. She is a persuasive presence who will illuminate the challenges and triumphs of grassroots organizing and new models of direct democracy. 
Jeff Jarvis is no stranger to the PHIL Talks format and has given many fascinating short lectures on the state of journalism and mass communications.  He is heading up an exciting new $14 million project funded by Facebook, the Craig Newmark Philanthropic Fund, the Ford Foundation, the Democracy Fund, the John S. and James L. Knight Foundation, the Tow Foundation, AppNexus, Mozilla and Betaworks to advance news literacy, to increase trust in journalism around the world, and to better inform public conversation.
Katy Rubin and Devyn Mañibo of Theatre of the Oppressed NYC will present our first ever two-person PHIL Talk. If you've never seen how Theatre of the Oppressed gets communities involved in public policies, get ready for a whole new take on civic engagement. 
These phenomenal PHIL Talks will be bracketed by our opening and closing panels, which will, respectively, set the stage, and hopefully, bring down the house. 
If you haven't yet RSVP'd for the 38th Annual Meeting: The Power of Participation, what are you waiting for?
Whether you are a funder immersed in community organizing or one who just wants to better understand how people connect to information that shapes their lives, this is an annual meeting that will truly have usable information and inspiration for every type of philanthropic professional.
I can't wait to see you on June 16.