Check out the video, photos and other content from the 38th Annual Meeting on the recap page.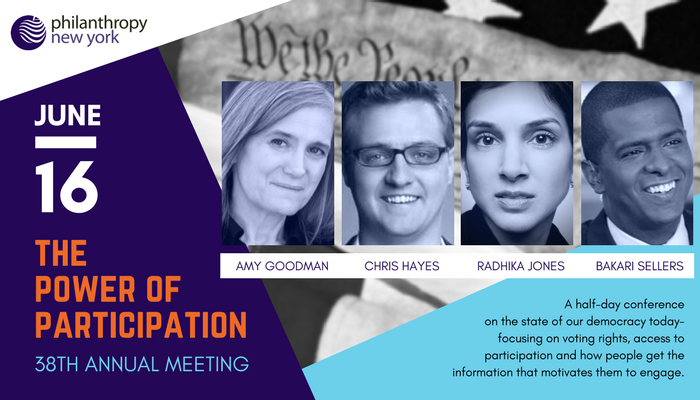 ** Please note: The live-stream runs from 9:00 a.m. to 12:30 p.m. EST. Tune into the livestream via PhilTV. Tweet your questions and comments using @PhilanthropyNY and #PhilTV**
Philanthropy New York is proud to announce our 38th Annual Meeting "The Power of Participation: Democracy Building Now."  The focus of this half-day conference will be on the interrelated issues associated with voting rights, access to participation and how people get the information that motivates them to engage.
As always, the Annual Meeting will begin with the election of new Philanthropy New York Board members and a review of the past year's accomplishments. 
Philanthropy New York thanks JPMorgan Chase & Co. for its generous hosting of the 38th Annual Meeting. 
While we continue to develop the day's events, we encourage Philanthropy New York members to register today and add this event to your calendars. 
We will be updating this page with more information as the program develops.  We will also send all registrants a full listing of speakers in the days before the Annual Meeting. 
Preliminary Program:
8:00-8:30am       Breakfast and Registration
8:30-9:00am       Business Meeting: Annual Meeting of the Members of Philanthropy New York
Election of New Board Members
President and Chair's Reports on 2016
9:00-10:00am     Opening Panel: Voter Engagement, Access and Community Organizing for Action
10:00-10:45am   PHIL Talks
These fascinating, inspiring leaders on the work that drives them:
11:15am-12:30pm  The Power of Participation: Democracy Building Now
With Audience Q&A
12:30-1:30pm     Luncheon Reception
Designed for
Philanthropy New York's annual meeting is an exclusive event for PNY members and invited guests.
* Registration is required by June 15th. A RSVP is required to attend in person.