New York City - On June 16, 2017, Philanthropy New York held its 38th Annual Meeting, "The Power of Participation: Democracy Building Now." The programmatic elements of the 38th Annual Meeting focused on the interrelated issues associated with voting rights, access to participation and how people get the information that motivates them to engage.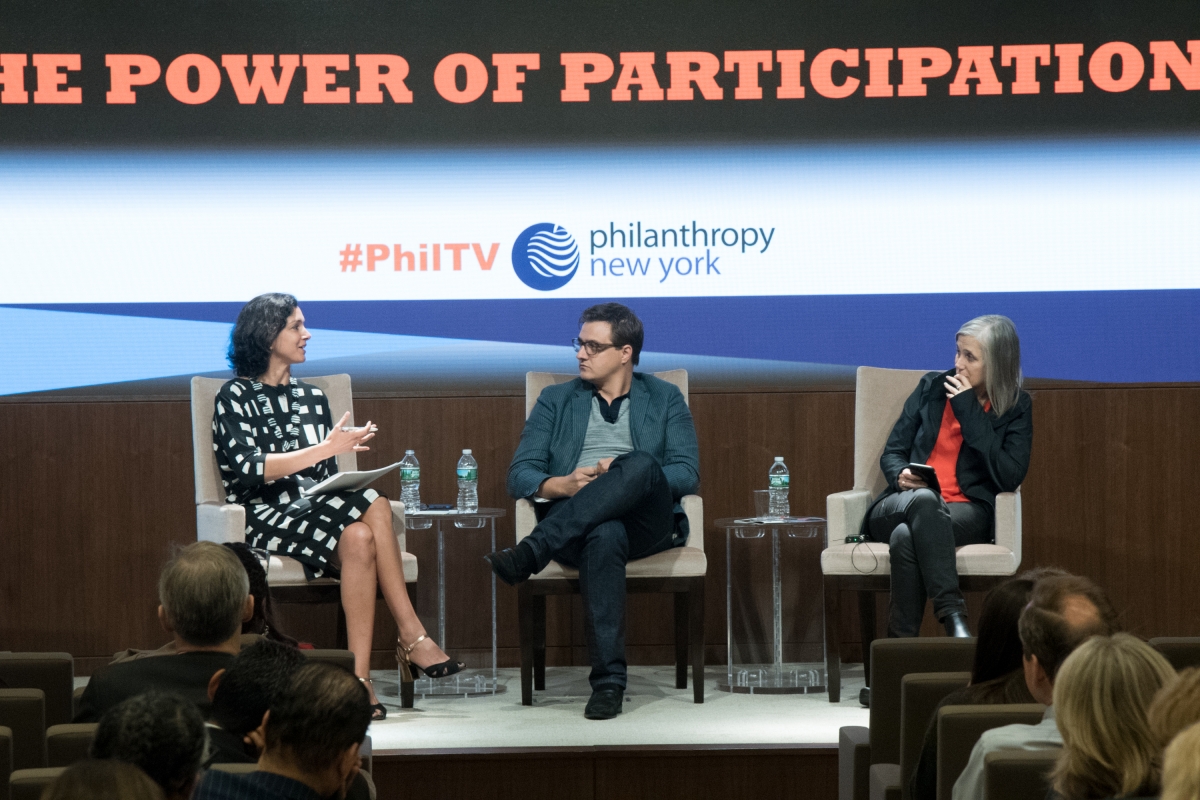 Full Program
---
Annual Meeting of Members
Before listening to a dynamic line-up of speakers, PNY members participated in the annual business meeting portion of the day and elected new board members Diahann Billings-Burford, Executive Director of Cultural Investments at Time Warner, Jacqueline Jones, President and CEO of the Foundation for Child Development, Leticia Peguero, Executive Director of the Andrus Family Fund, David Sandman, President and CEO of the New York State Health Foundation, and Teresa Younger, President and CEO of the Ms. Foundation for Women.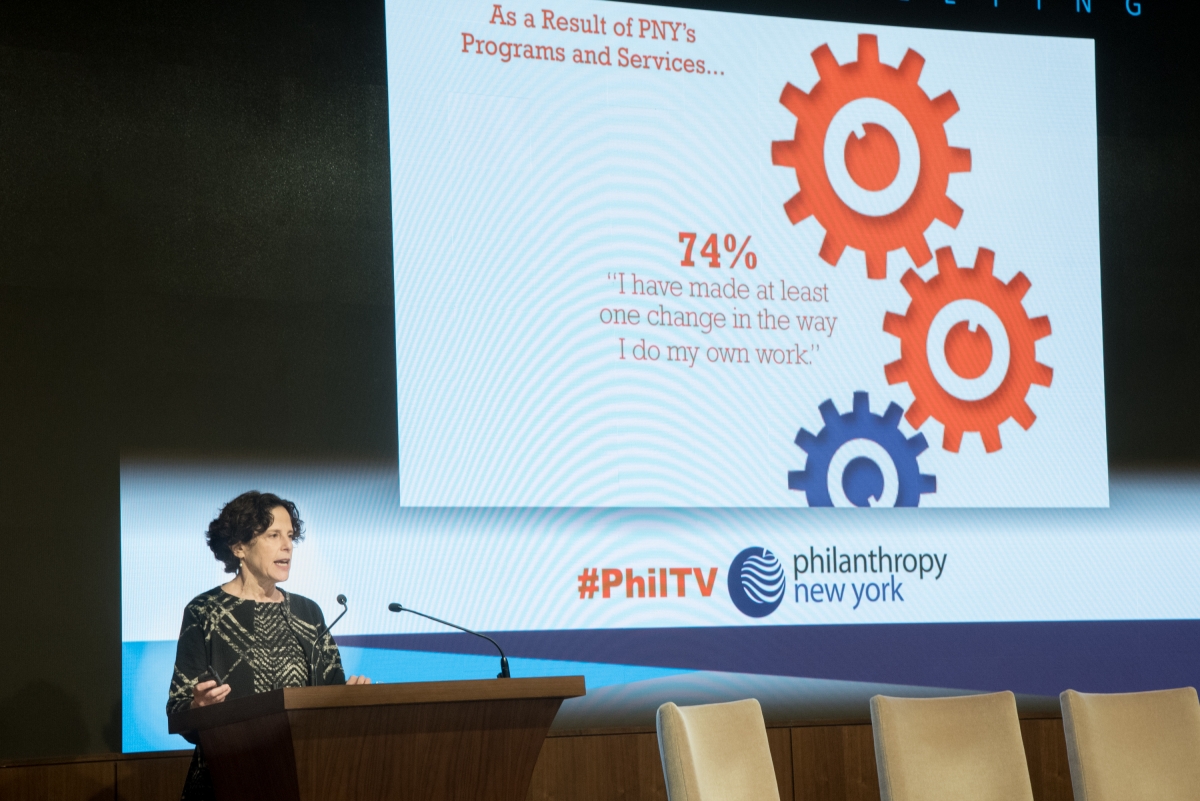 Members also heard from PNY President Ronna Brown about the major accomplishments of the previous year and the outcomes of the strategic planning process. Outgoing PNY Board Chair Philip Li, President of the Robert Sterling Clark Foundation, gave a short, inspiring talk about the many forms of leadership that Philanthropy New York nurtures among its members.
Following the official close of the business meeting, Karen Keoh, Head of Global Philanthropy, JPMorgan Chase & Co., came to the stage to welcome both the members in the audience and the viewers watching the livestream.
Then, newly elected PNY Board Mike Pratt, President of The Scherman Foundation, highlighted the programmatic elements of the day and introduced the opening panel's moderator.
---
Opening Panel: Voter Engagement, Access and Community Organizing for Action
Leticia Peguero kicked off the opening discussion, "Voter Engagement, Access and Community Organizing for Action," with Tom Basile, Senior Advisor for Policy & Strategy at Reclaim New York, Gara LaMarche, President, Democracy Alliance, Rashad Robinson, Executive Director, Color of Change, and Erin Vilardi, Founder and Director of VoteRunLead, to discuss the intersection of technology, community building, and leadership in shifting narratives and building political power, along with the role of philanthropy in supporting this work.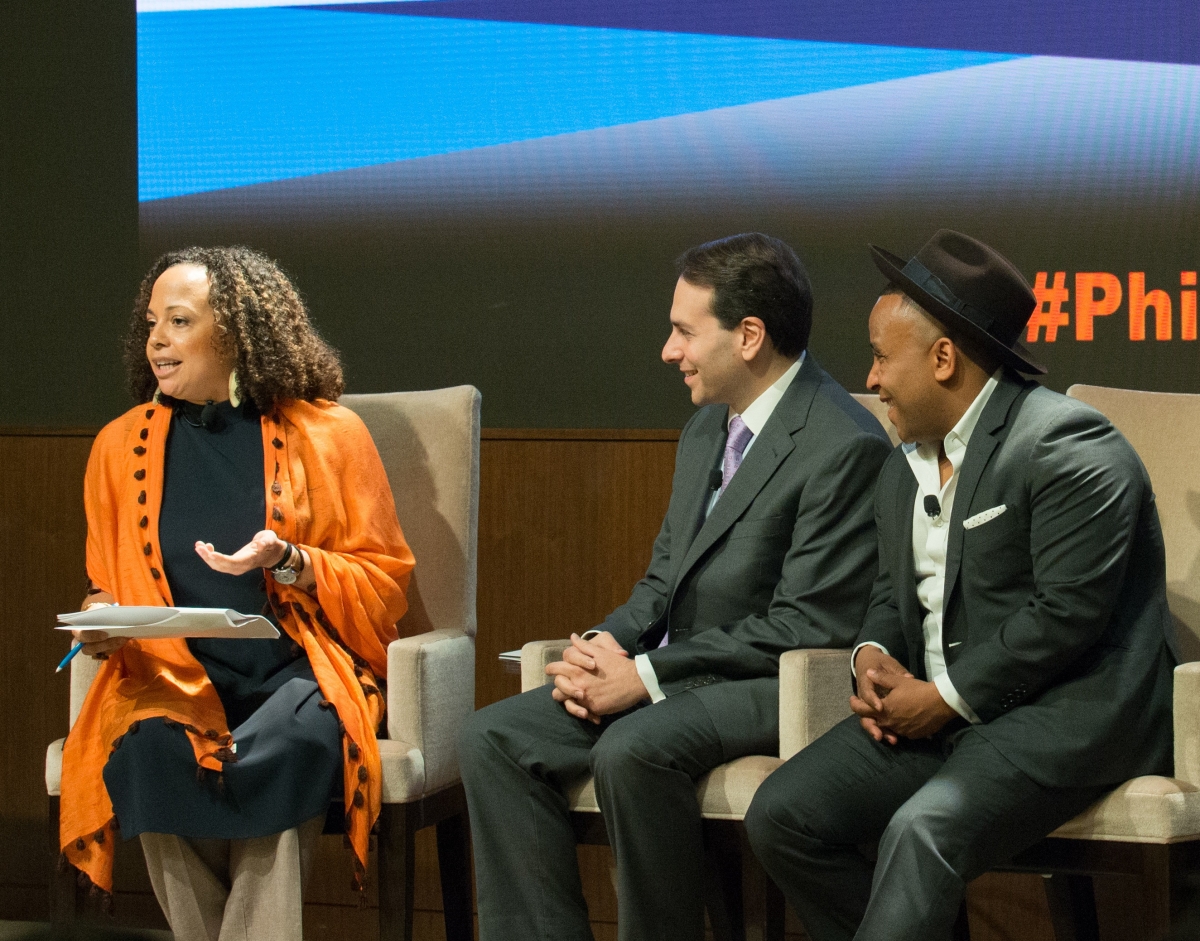 Peguero opened the conversation by reminding funders to center the conversation in this current political moment on real issues, faces, and lives, rather than on theoretical arguments on civic participation. Drawing on her own experience as a funder, she shared, "I oftentimes ask in my work working with young people: 'do we ask communities where do they hurt?' I think that's a central question when we're talking about issues like voter engagement."
She then transitioned to the panel, asking the speakers to address the challenges that civic participation, community engagement, and access to credible information has in their work building a truly democratic, participatory process. Basile, Robinson, LaMarche, and Vilardi shared their perspectives, focusing on how issues resonate with communities when grounded in real life experiences and how to harness pivotal moments for structural change.
Basile started with the connection between decreased voter participation and the public's loss of confidence in the government's ability to address their needs. "When we tal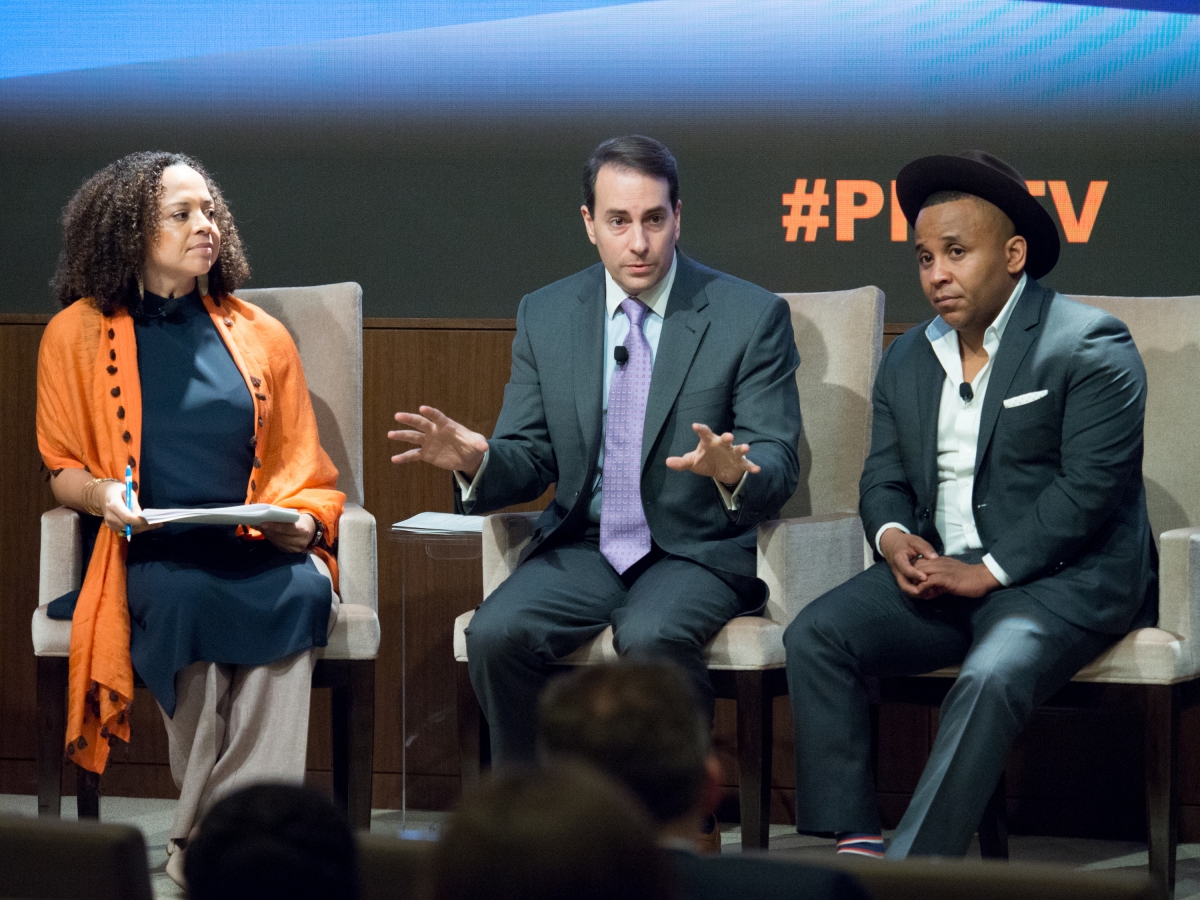 k about voter participation, it's not just about the issues of voter access or ballot access; it's about opening up the system to people and making people think about the system differently," he asserted.
He shared insights from Reclaim New York's research, saying how "one of the things that we have found is a high level of disconnect, where people just feel - regardless of political persuation - whatever this apparatus is... isn't quite connected to me as a person, what my needs are, what my values are, and what I need or my family or my business." The challenge, said Basile, is convincing individual voters that they are empowered to impact the system. He argued that successful civic engagement borrows from marketing principles, personalizing issues to motivate voters to take action.
Robinson built upon Basile's points about shifting narratives to humanize issues for individuals who have lost faith in civic institutions. "We have this theory at Color of Change: people don't experience issues - they experience life," he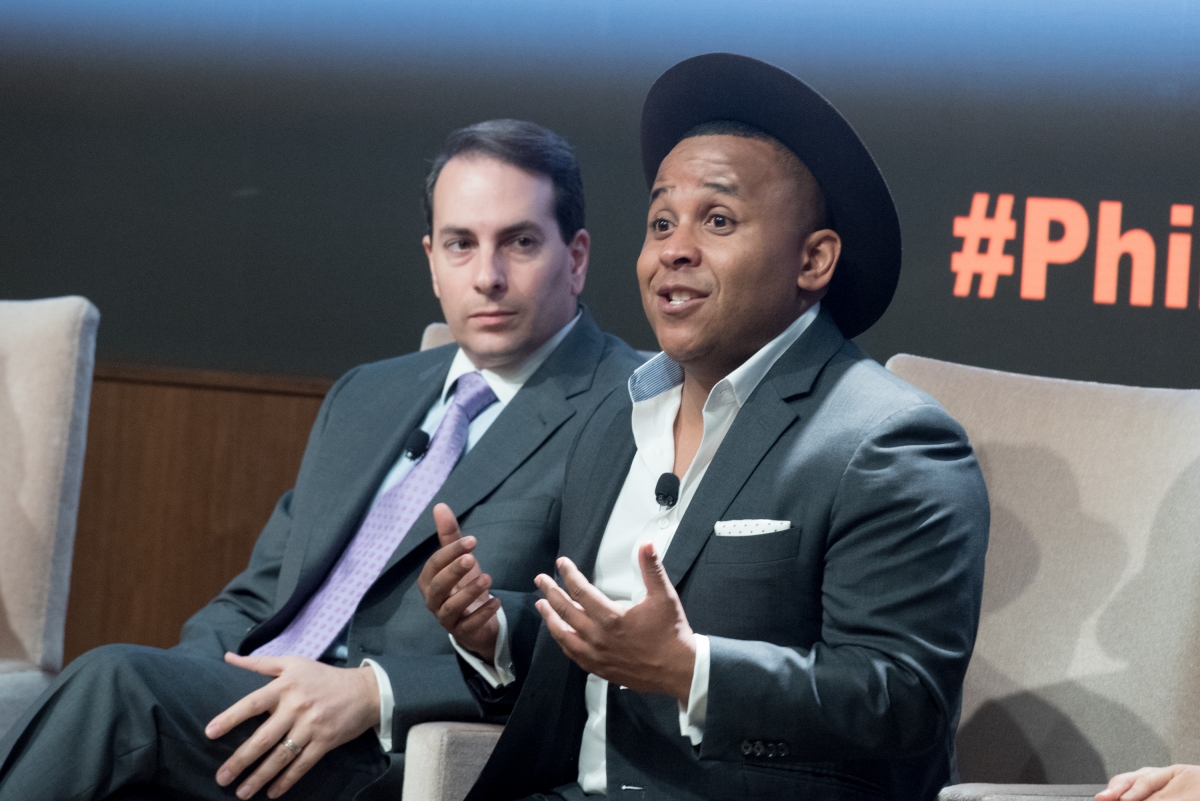 shared.  "The forces that hold people back on gender or race or the economy don't just sit in sort of one area over here and not one area over here, like a racist criminal justice system needs a media climate that supports it. Economic inequality requires political inequality, and so forth and so on."
Talking about Color of Change's origins as a response to the aftermath of Hurricane Katrina, Robinson recalled the conversation that arose when black New Orleans residents felt abandoned by their government: "No one was nervous about disappointing black people - the government wasn't nervous, the media wasn't nervous, corporations weren't nervous." He then spoke to Color of Change's work building power for Black communities to hold these institutions accountable, respond to political moments and find the systemic pivot point to mobilize people for change.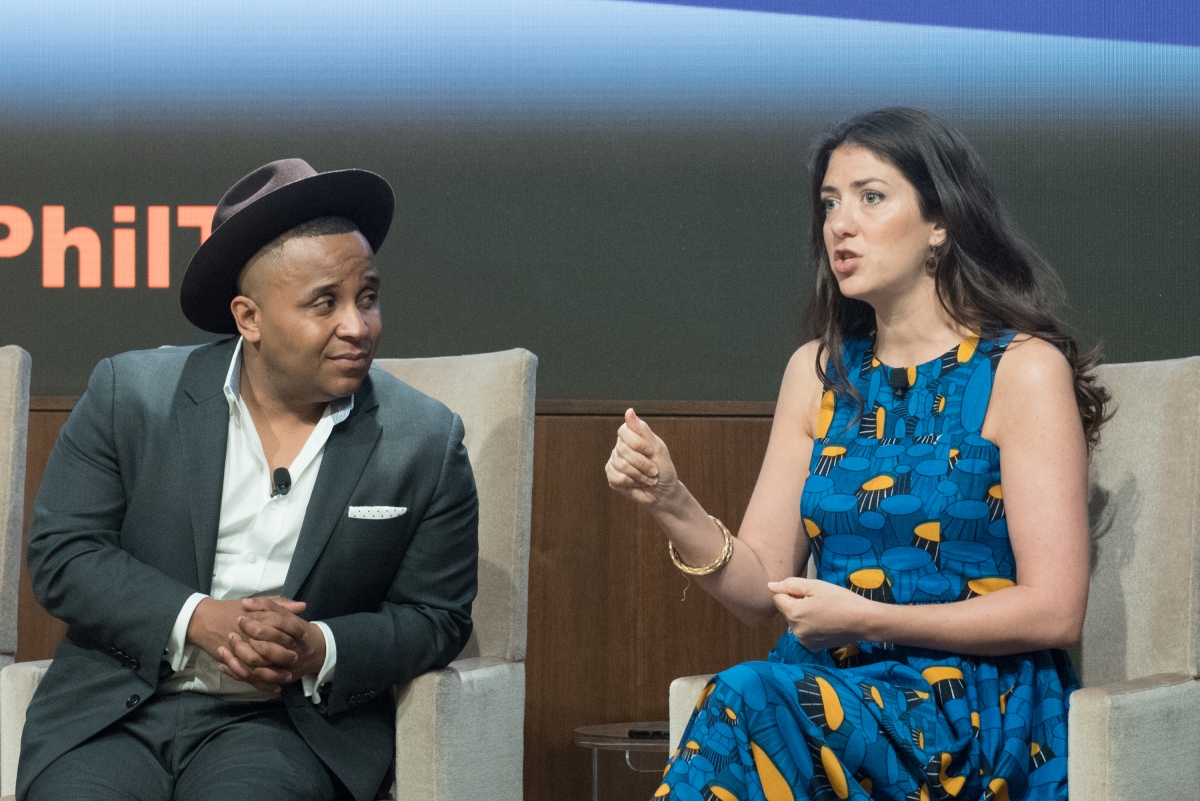 Vilardi pushed forth her vision of whom could be the impetus for changing our current political system, calling for support for "feminist patriots, and the men who love them and the people who will get out of their way if we want to change democracy."
Her comments focused on activating the unspent political capital of women, saying how they "have the ability, probably better than any other group (and thirty years of reseach shows this)... to come together at a political conversation and listen to one another, and hear one another. And that is exactly what is needed in politics right now - those skills." She emphasized the need to move women's civic participation beyond voting to include holding office and crafting policies as a means of transforming governance.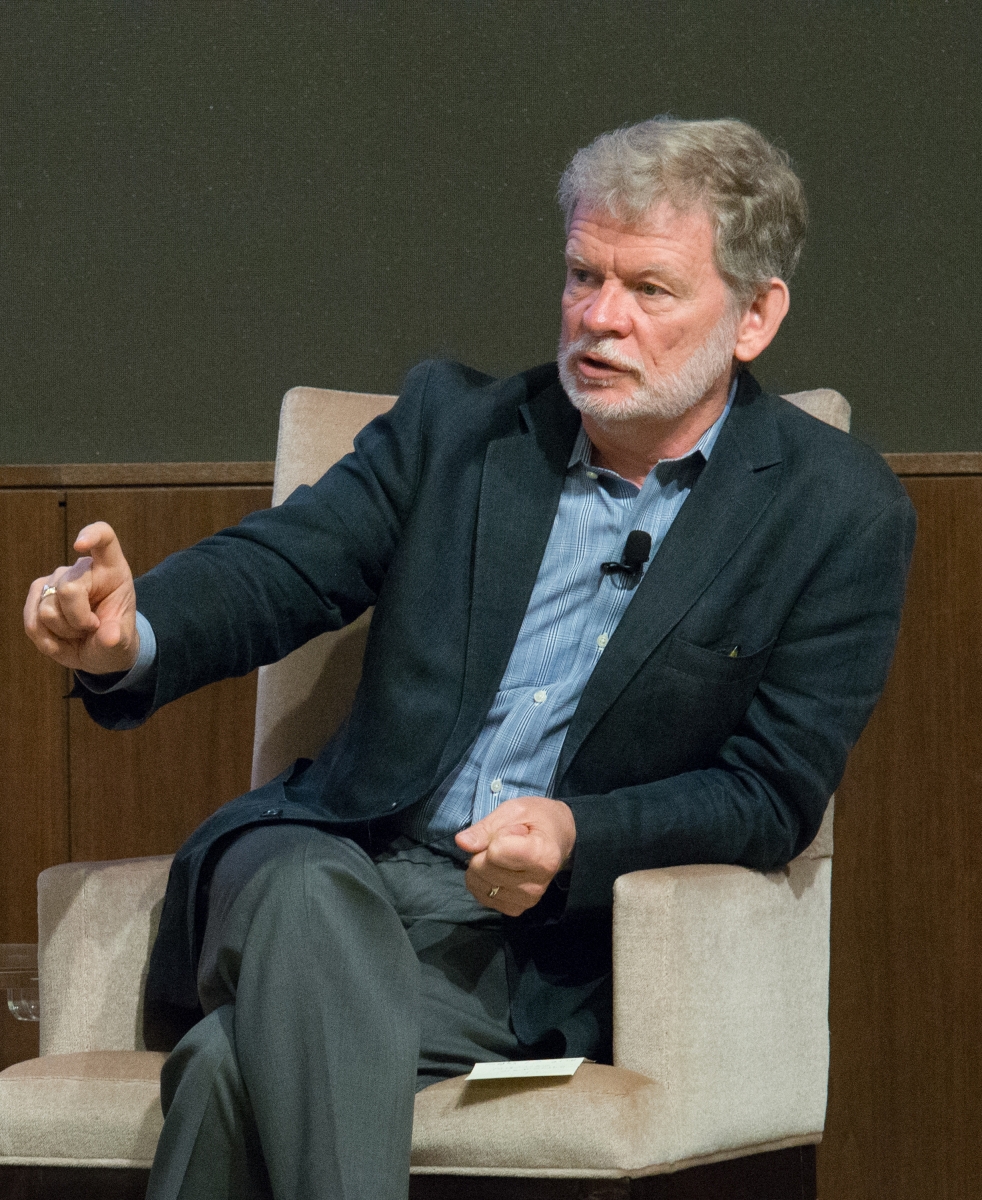 LaMarche echoed his fellow panelists' points, bluntly stating, "the history of this country is the history of systematic exclusion from democracy, right up until the present moment. That is the story of America; the story of America is the franchise limited to white, male property owners. And the expansion of that franchise to people of color, to women, to younger people has been a constant struggle, which is not a historic struggle - it's a struggle that's going on right now... Almost anything that can be done to make it more difficult for people to vote is being tried in a number of places today."
Drawing on Robinson's earlier example of the interconnectedness of disenfranchisement and mass encarceration, LaMarche recalled how he began to see their ties during his tenure at Open Society Foundations, finding that "if you are living in a penal state, you don't have full democratic rights." He continued by asking funders to support organizations seeking to expand and protect voting rights, and to invest more deeply in civic infrastructure in communities, especially in communities of color. 
The remainder of the conversation touched upon what it takes to shift traditionally marginalized communities to become active participants in our democracy, the role of media and technology for movement building, and expanding engagement beyond the current political systems. 
---
PHIL Talks
PNY's signature "PHIL Talks" – a set of rapid-fire presentations by four fascinating leaders, Afua Atta-Mensah, Jeff Jarvis, Katy Rubin and Devyn Mañibo - were the second element of the program on "The Power of Participation."
These rapid-fire presentations covered topics like community-driven basebuilding, the rise of "fake news," and artistic activism to humanize policy issues.
Afua Atta-Mensah
, Executive Director,
Community Voices Heard
Atta-Mensah, a former public defender, recalls how she first got involved with CVH and learned about its relational organizing method, a foundational principle of the organization that requires members to share narratives with one another face-to-face. 
"At a time when we sit across the breakfast table and text the person across from us to pass us the Cheerios, talking to somebody is a revolutionary act," she said. Her PHIL Talk delved into the importance of one-on-one conversations to finding common struggles, building coalitions, and reviving movements. She acknowledged how difficult community engagement is, but emphasized its centrality to building a critical mass of socially conscious people with political power.
"Basebuilding is a contact sport. Just getting that initial engagement with someone is hard work," Atta-Mensah exclaimed. "We have to knock 50 doors just to get 20 people who will talk to you. Out of that 20, maybe 12 will talk to you and want to do something more than just identifying the problem and move to action. Change movements are built by a small cadre of people."
Jeff Jarvis
, Professor and Director of the News Integrity Initiative,
CUNY Graduate School of Journalism
and
Tow-Knight Center for Entrepreneurial Journalism
As the founder of the News Integrity Intiative, Jeff Jarvis wants to shift the conversation away from identifying bad content, i.e. "fake news," and look at how misinformation propagates to learn from it and get ahead of it. 
"The truth is that we are being manipulated by an array of actors, who have related but separated motivations... what they share is technique and tactics," said Jarvis. He gave a PHIL Talk that not only illustrated how these bad actors have been so successful, but also how the mainstream media's failure to adapt to new means of communication plays into internet malcontents' ability to spread lies so quickly.
"The techniques are similar because they are learning from each other, and we in institutions aren't learning from them," explained Jarvis. "We are holding ourselves back and above and separate from it saying 'well, they're playing that dirty little game,' but they're having a conversation with the public that we're not having... I'm concerned that news literacy is media-centric and says to the public 'if you read our news, you're literate, and if you don't, you're not.'"
Katy Rubin and Devyn Mañibo
, Executive Director and Community Engagement Coordinator,
Theatre of the Oppressed NYC
In this tag-team PHIL Talk, Katy Rubin and Devyn Mañibo discuss the importance of fun in engaging communities in social justice work, and the power of "spect-acting" in humanizing policy proposals to elected officials.
"Organizing is not only doing the work, but also accessible and fun," argued Mañibo.  "We're not going to make change without the three magic ingredients: fun, community voices, and civic engagement. Those are the three things that you really, really need to move forward."  
---
Headline Panel: The Power of Participation: Democracy Building Now
Amy Goodman, Host and Executive Producer of Democracy Now!, and Chris Hayes, MSNBC personality and author of "A Colony in a Nation," chat with the New York Times' Radhika Jones, who moderated this conversation on how media shapes when and how people get their information, thereby influencing how they engage in civic life.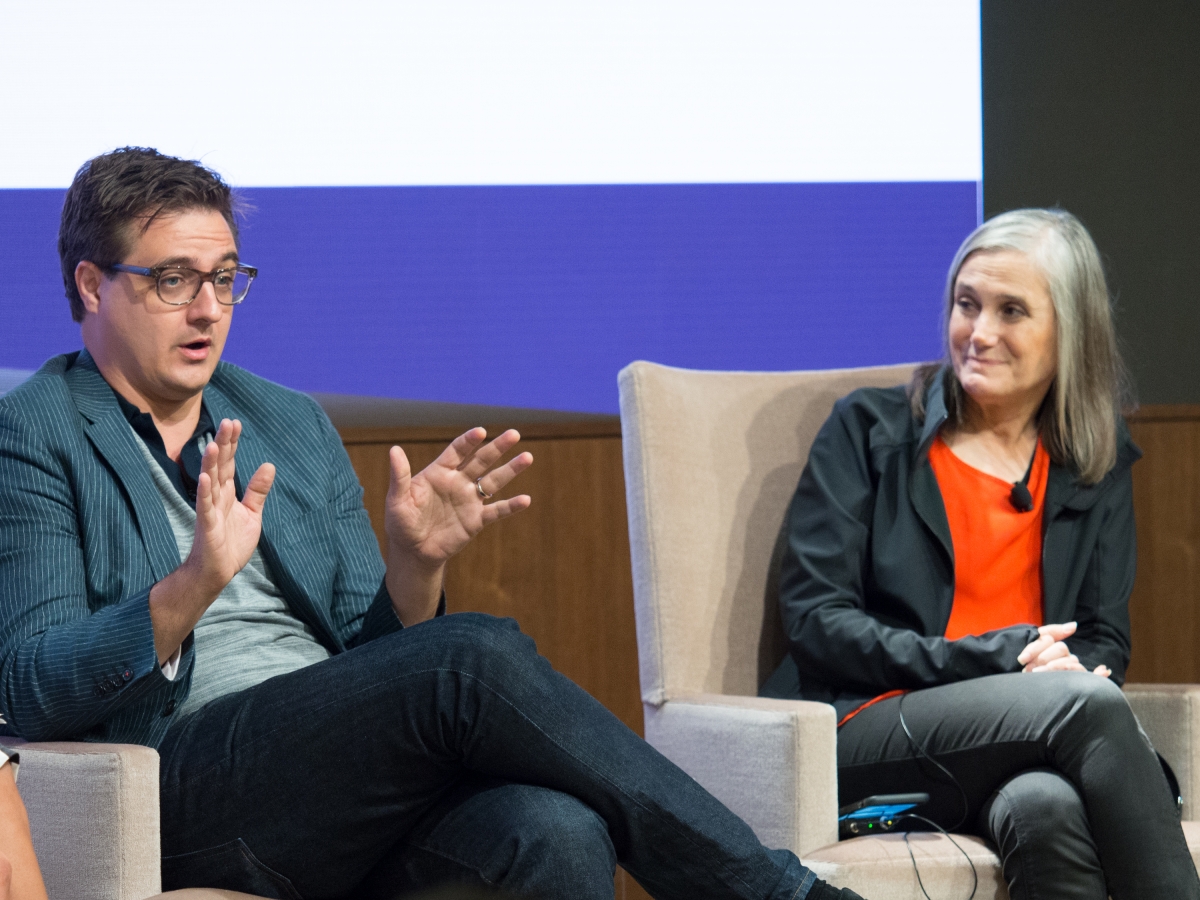 Hayes shared his own experience with trying to vote via absentee ballot in New York City to illustrate the "avalanche of hassle" that incumbent parties employ to suppress voter turnout so that organized interests can have high leverage in elections. "The sophistication by which people can employ these tools of suppression and hassle is an outgrowth of the lines around polarization that has grown so stark," he stated.  "So if every voter you can tell in the dark - by their their address, by their education level, by their race, by their demographic information  - which coalition they're in, you can do all kinds of things to create structural barriers for the other group and enhance your own, and we've seen this put to use." 
Coupled with the hollowing out of local media, Hayes argued that voters are doubly deprived: not only do fewer eligible individuals have access to vote, but they are also more poorly informed on what is happening in their local government than generations before them.
Following in this thread, Amy Goodman talked about the power of independent media to bring underreported stories to the national stage. She relayed how Democracy Now! grew from a local radio show to the first news source to cover the Dakota Access Pipeline protests.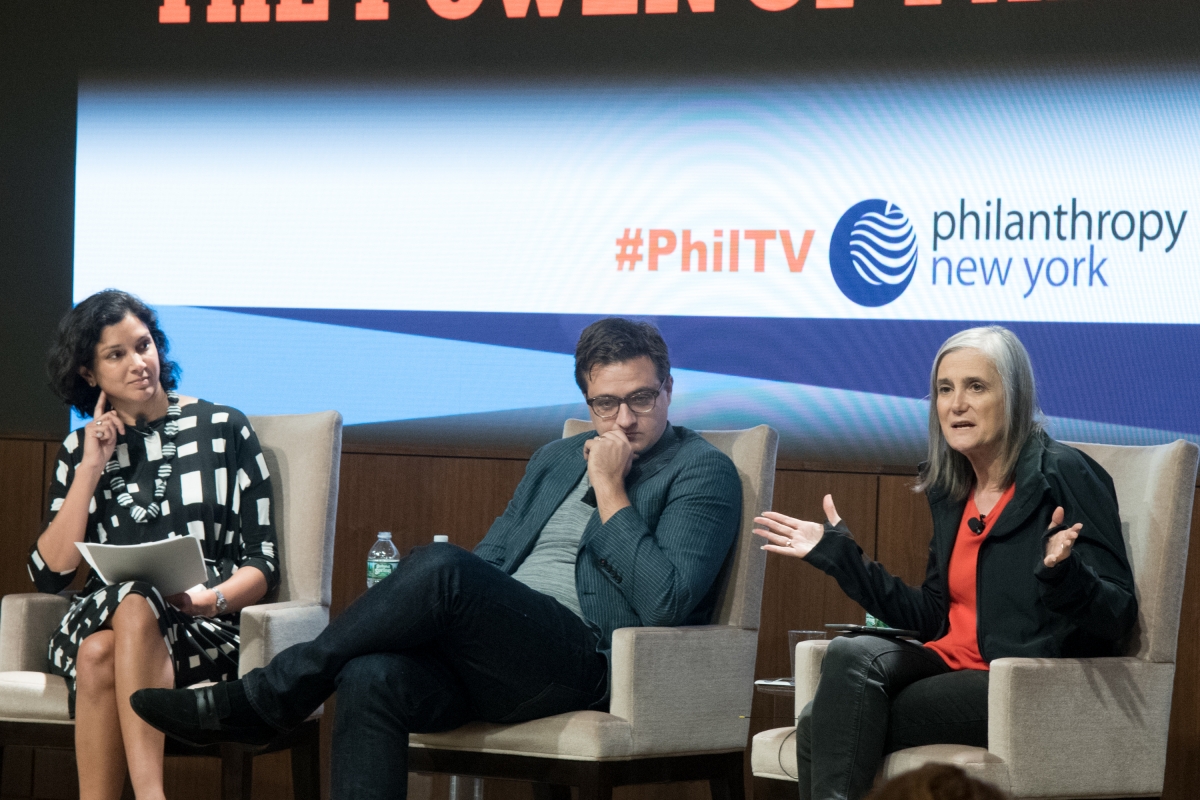 "When the media spotlight is shining in the right direction, what a difference it can make," Goodman said. "I'm all for reality television... the kind that actually shows the reality of people's lives the ground - the dignity of providing a forum for people to speak for themselves." She went on to describe the hunger audiences have for truly independent news sources and how the globalization of media allows information to spread across borders. 
Later in the session, Jones stoked energetic banter between the two panelists by pointing out the media's difficulty in covering the development of American Health Care Act in the Senate when its engineers are operating in secret. Hayes' frustration with the current state of affairs was palpable when he declared, "this is the devious ingeniousness of this ridiculous strategy -  you can't criticize the thing because you don't know that there are Medicaid cuts."
Goodman countered with an argument for media to cover stories of activists and everyday people, rather than just politicians, to engender more complex discussion on issues of national importance. She exclaimed, "I don't think you just follow power and try figure out what they're doing behind closed doors... What counts is the drumbeat coverage, the regular coverage of including people who expand the debate."
Jones, Hayes and Goodman went on to have a wide-ranging conversation that touched on the distrust of traditional media, the rise of social media as a primary news source, and how shifting incentives for media models have changed what content is produced and engaged with. The panel also offered suggestions to funders on how to capitalize on heightened public engagement, even if they don't fund in democracy building. The discussion closed with a short Q&A session between the panelists and audience members, where attendees posed questions on the influence of social media platforms on the news ecosystem and whether the tone of political rhetoric and news coverage can and should shift.
---
Networking Lunch
Following the close of the "Power of Participation" final panel discussion, Philanthropy New York President Ronna Brown returned to the stage and invited all members and the day's speakers to join staff for lunch and conversation. She noted that future PNY programming on the day's topic would include:
New York Voting Reform – An examination of the legislation that passed the New York Assembly last month, but which hasn't been taken up by the Senate, that would institute early voting, automatic registration and electronic poll books across New York State
Census 2020 – A look at how philanthropy is supporting efforts to ensure the quality and reach of Census 2020, what nonprofits with community relationships can do and the funding for nonprofits that hangs in the balance
Local Journalism – A program looking at how funders of all programmatic varieties are investing in local journalism to advance better public understanding of the issues they care about
Centering Women in Engagement – Building off of programming initiated by FCCP, we will help funders look at the opportunities in initiatives that start with women as the locus of community organizing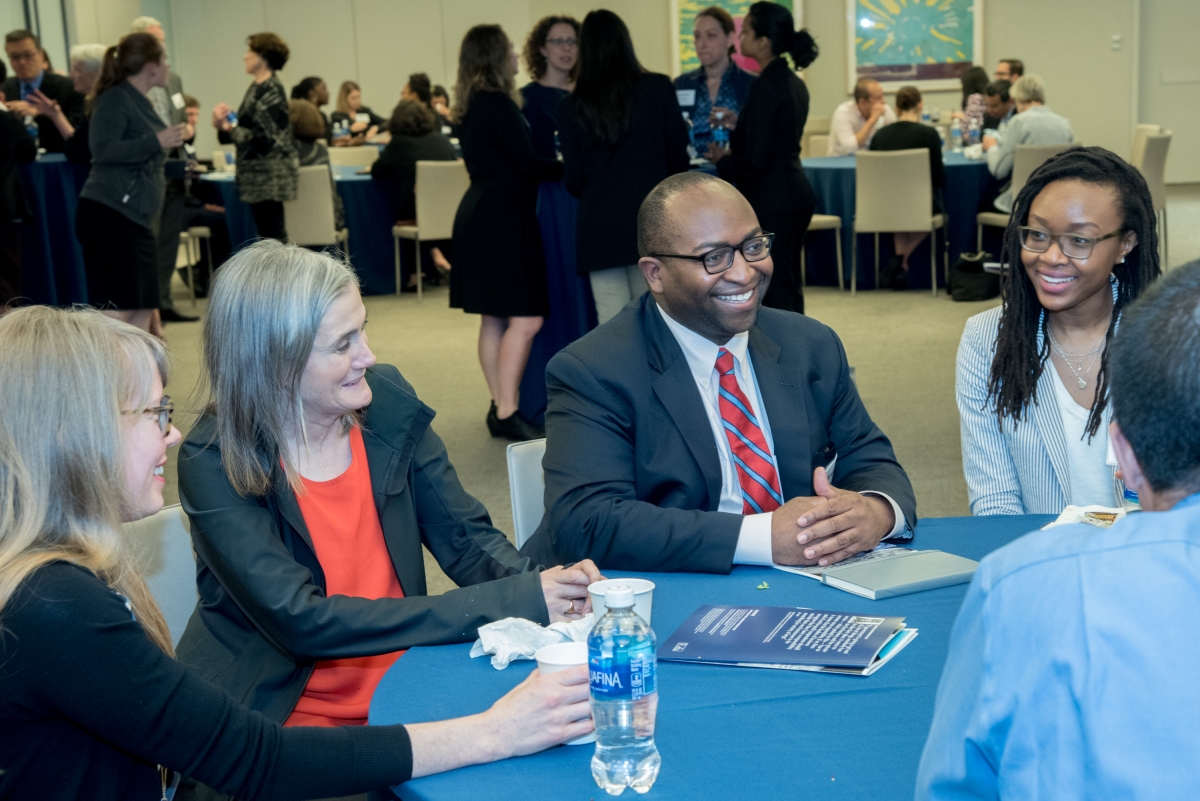 Education Systems as Drivers of Civic Participation – Is civics education about to stage a comeback? How are funders driving the movement to strengthen civics and youth organizing in schools?
Racial Justice Organizing is Democracy Building – The racial justice movement is increasingly and intersectional one, bringing together leaders of women's, immigrants', LGBTs and economically disadvantaged from rural areas to fight for populism on their own terms
Over lunch, members discussed these and other related issues, caught up with colleagues, and engaged with the day's speakers.
The following week, Philanthropy New York Senior Vice President for Public Policy and Communications Michael Hamill Remaley put out a call to all members to add to add to the list of topics to explore in the coming year. PNY welcomes all members weigh in with their ideas and join our efforts to deepen citizen engagement in New York and across the nation.
Page Contents
---
Photo Gallery
Program
Check out our Annual Meeting Program for an outline of the day's events and detailed speaker bios.

---
Tweet Team
Thank you to our official "Tweet Team" and everyone who helped keep the conversation going on Twitter: 

Jennifer Agmi
Alexis Anderson-Reed
Chris Cardona
Linda Diamond
Beeta Jahedi
Joseph Peralta 
Noelle Pourrat
Adiel Suarez-Murias
Irene Williams