Friday, November 14, 2014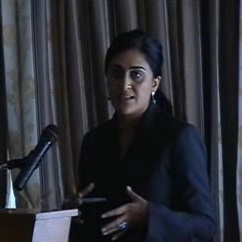 Four Freedoms Fund Names New Director
Anita Khashu, an experienced nonprofit lawyer, manager and philanthropic advisor, has been named the new Director of Four Freedoms Fund (FFF). The announcement was made this week by NEO Philanthropy Co-Presidents Berta Colón and Michele Lord.
Khashu brings to the job an extensive, multi-decade U.S. and international career at the intersection of immigrant rights, criminal justice, legal services, migration and social justice philanthropy.  She has worked in the U.S., Latin America and Africa, managing large and complex nonprofit programs, providing direct legal services, conducting research and providing strategic consulting services to nonprofits and philanthropies. In her most recent role as a nonprofit and philanthropic consultant, Khashu provided planning, research and evaluation services for leading foundations investing in the immigrant rights field, as well as other social justice philanthropies.
Khashu was the founding Director of the Vera Institute of Justice's Center on Immigration and Justice, which develops pilot programs, conducts research and evaluation, and provides technical assistance and consulting services to improve access to the immigration and criminal justice systems for immigrants and their families. Prior to working at Vera, Khashu was a staff attorney with the Legal Aid Society of New York in its criminal practice. She left Vera in September 2007 to spend a year as an independent Fulbright Scholar in Mexico studying the migration of Central American unaccompanied minors in Mexico and the process of their arrest, detention and deportation. In 2009, she continued her work on minors in migration as a visiting researcher at the Center for Inter-American Studies and Programs at Autonomous Technological Institute of Mexico (ITAM). Khashu serves as a founding board member for the Mexico City-based Institute for Women in Migration (Instituto para las Mujeres en la Migración, A.C.) and the Brooklyn Community Bail Fund.
Khashu begins work on December 3, 2014. She succeeds Margarita (Magui) Rubalcava, who has moved on to new philanthropic endeavors.