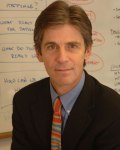 Elliott S. Fisher, M.D., M.P.H., one of the nation's most renowned experts on healthcare, has joined the Fannie E. Rippel Foundation's Board of Trustees. A founding member and active advisor of the Foundation's ReThink Health initiative, Dr. Fisher is a professor at the Dartmouth Medical School and Director for Population Health and Policy at The Dartmouth Institute for Health Care Policy and Clinical Practice.
Perhaps best-known as a Principal Investigator on the Dartmouth Atlas of Health Care, Dr. Fisher's research focuses on the causes, consequences, and implications of variations in health system performance. His current work also concentrates on advancing the use of patient-reported measures as tools for improvement and accountability, and the development, pilot testing, and evaluation of new models of healthcare delivery and payment.
Dr. Fisher is a graduate of Harvard University and Harvard Medical School and received his M.P.H. from the University of Washington. He is a member of the Institute of Medicine and has served on major national committees with the National Quality Forum and the National Advisory Council of the Agency for Healthcare Research and Quality.