Wednesday, September 4, 2013
Anna Campbell
and
Jessica Mowles
have joined the staff of the
Educational Foundation of America
— Campbell will serve as a Program Officer for the Foundation, and Mowles as Program Associate.

As Program Officer, Anna Campbell will support the work of EFA's Arts Committee, as well as a segment of the Foundation's Adjunct Committee docket, with the management of grantmaking activity, strategy and infrastructure development, and engagement with the cultural sector. Prior to joining EFA, Campbell was Assistant Director at the New York City Department of Cultural Affairs (DCA), where she was responsible for a portfolio of over 100 applicants, led grant review panels that distributed over $20M in grants annually, and was the Agency's point person for participation in the Cultural Data Project.
Before her tenure at DCA, Campbell was Director of Grantmaking Programs at The American Music Center, a membership organization supporting the new music community, where she led multiple grant programs funding the creation and performance of new work. She began her career in philanthropy as a Communities Department Coordinator at The Massachusetts Cultural Council, leading the administration of the state's Local Cultural Councils Program. Prior to working in the field of grantmaking, Campbell was a professional ballerina.
Campbell holds a Master's degree in Arts Administration from Boston University; prior to her graduate degree, she received a Bachelor of Arts in Political Science and a Bachelor of Science in Music from Indiana University, Bloomington.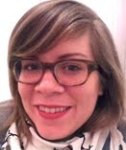 As Program Associate,
Jessica Mowles
will manage EFA's overall operations and communications as the Foundation works to streamline its grantmaking strategy. Prior to joining EFA, Mowles consulted on program development and capacity building with the International Human Rights Funders Group, a network of funders interested in promoting human rights. She has also consulted with several New York-area nonprofit organizations on creating and implementing effective monitoring and evaluation practices, most notably designing a comprehensive evaluation system for an after-school program for African immigrant girls. Before this work, Mowles served as Program Manager at iMentor, a youth development nonprofit and one of the first recipients of President Obama's Social Innovation Fund. 
Mowles is currently completing her Master of Public Administration degree, with a focus on Strategic Management, at the NYU Wagner School of Public Service. Previously, she earned a Bachelor of Arts in Political Science and Geography from Macalester College.