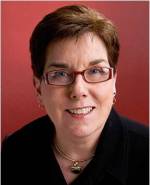 The William T. Grant Foundation is pleased to welcome Deborah E. McGinn as its new Vice President for Finance and Administration. In this position, she will work with the Board and its Committees to manage the Foundation's budgets, audits and portfolio of investments. McGinn will also direct the administrative and operations functions of the Foundation and serve as a member of its Senior Management Team.
McGinn was formerly the Vice President of Finance and Administration for The After-School Corporation (TASC). While at TASC, she helped implement an integrated grant management and general ledger system and implemented cash flow forecasting to better manage assets and investments. McGinn has a strong track record in nonprofit finance and administration. Prior to her tenure at TASC, she held senior-level positions at the Fund for Public Schools, EDF and E+Co. She also spent many years at the Port Authority of New York and New Jersey, beginning her career as an accountant and, after several promotions, serving as a Deputy Director and Deputy Treasurer.
"Deborah impressed us with her knowledge of issues affecting youth as well as with her focus on staff development and efficient management practices. I look forward to working with her, as does everyone else at the Foundation," said President Robert C. Granger.
Ms. McGinn succeeds Lawrence D. Moreland, who passed away earlier this year. The Foundation appreciates the donations made in his honor to the Multiple Myeloma Research Foundation.