Monday, September 3, 2012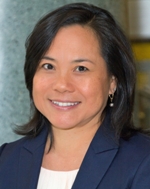 Deanna Lee has been appointed the Chief Communications and Digital Strategies Officer at the Carnegie Corporation of New York. Ms. Lee is an award-winning communications strategist and former broadcast news producer, with deep experience in communications, marketing, public affairs, digital and social media, and strategic planning. She will assume her new duties on October 1st.
Lee comes to the Carnegie Corporation from The New York Public Library, where she has served as the Vice President of Communications, Marketing and Public Engagement. At the Library, she spearheaded numerous strategic and multimedia publicity, marketing, social media, publications, design and web initiatives—with an emphasis on the creation and dissemination of original content. These included introducing a new Library brand and logo, mission statement, and website design, as well as managing NYPL's highly successful advocacy campaigns and marketing its 2011 Centennial Celebration. Ms. Lee also launched groundbreaking digital projects, including Biblion: The Boundless Library, a free iPad app and website that allows readers to chart their own journeys through the Library's vast collections; a John Cage living archive and other online exhibitions; multimedia annual reports; and its new e-publication series, Point. Ms. Lee oversaw The New York Public Library's expansion into a leading social media presence, and forged content and marketing partnerships with Google, Apple, Sony, New York's MTA, The Wall Street Journal, WABC, The Huffington Post, and others.
"Deanna Lee is a dynamic innovator whose skills will be critically important to Carnegie Corporation as we work in partnership with our grantees to advance the issues that Andrew Carnegie considered of paramount importance: international peace, the advancement of education and knowledge, and the strength of our democracy," said Vartan Gregorian, President of Carnegie Corporation. "We are very pleased that Deanna will be joining us—her creativity, drive and ability to convey compelling narratives with new technologies will prove vital to all of us working to fulfill the Carnegie mission."
Prior to her work at the Library, Lee was the Vice President of Communications at the Asia Society, where she developed multimedia news feeds featuring the Society's unique stories and expertise, as well as branded international news and new media content partnerships—tripling media coverage and further establishing the Society as the definitive source for expertise and analysis on Asia-related issues and breaking news.
Ms. Lee, who began her broadcast career at the MacNeil/Lehrer NewsHour, is the recipient of eight Emmy awards for her reporting and producing at ABC News, where she worked as a Senior Producer on World News Tonight with Peter Jennings, and as Overseas Producer for Nightline with Ted Koppel, responsible for coverage in Europe, the Middle East, Asia and Africa. Lee serves on the Board of Directors of the Asian American Justice Center. An accomplished classical pianist, she also serves on the Board of the New York Piano Society. She is a magna cum laude graduate of Harvard College in Music and English and American Literature. (Photo credit: Jonathan Blanc, New York Public Library)