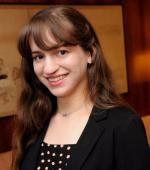 Dana Laventure has joined the staff of the New York State Health Foundation as its new Communications Associate. In this role, she works to capture and share information, stories and lessons learned from the Foundation's work. She is responsible for developing website content, expanding the Foundation's social media presence, identifying opportunities to promote the Foundation's work, providing support for events and public appearances, and drafting and editing written materials.
Laventure previously worked in development at the New York Stem Cell Foundation, a nonprofit that accelerates stem cell research to cure disease, where she worked with the Vice President of External Relations in coordinating fundraising and outreach, and contributed to creating and streamlining internal processes. Laventure was previously a legal intern at the Open Society Foundations, which work to build vibrant and tolerant societies, where she conducted research on international privacy law and assisted in creating the organization's equivalency determination process. She has also freelanced in nonprofits and photography.
Laventure earned her B.A. in Communication Ethics, Aesthetics and Social Theory from the Gallatin School of Individualized Study at New York University.