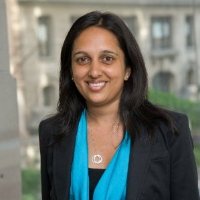 Cricket Island Foundation Welcomes New Deputy Director Seema Shah
The Cricket Island Foundation recently completed a fairly comprehensive internal evaluation of our grantmaking strategy and operations. One of the outcomes of this work was the decision, after Hana Sun, our Program Officer, left in January, to hire a Deputy Director, who would lead our evaluation work as well as help continue to build out our funding model and think more strategically about our field building and communications work. After an exhaustive search process, Seema Shah, Ph.D. joined the CIF team July 5 as our inaugural Deputy Director. 
Seema comes to us from the Foundation Center where she has worked for the past 7 years as the Director of Research. She has more than fifteen years of experience in the nonprofit and philanthropic sector. At Foundation Center, she led projects on a variety of topics including international research, new forms of philanthropy, and diversity and inclusiveness in the philanthropic sector.
In addition to authoring many of Foundation Center's research reports, Dr. Shah spearheaded the development of several interactive issue-focused knowledge portals, including WASHfunders.org, a website focused on the global water crisis, and BMAfunders.org, a portal focused on improving life outcomes for Black men and boys.
Dr. Shah came to Foundation Center from International Baccalaureate, where she helped to design and lead research studies related to international education. Previously she was principal associate at the Annenberg Institute for School Reform, where she directed a six-year national study on the impact of community organizing in eight urban school districts. While at the institute, she co-authored numerous publications, including Community Organizing for Stronger Schools: Strategies and Successes, published by Harvard Education Press.
Dr. Shah completed her post-doctoral fellowship at the Consultation Center at Yale University. She holds a Ph.D. in clinical-community psychology from DePaul University and a B.A. in psychology from Duke University.