Tuesday, September 1, 2015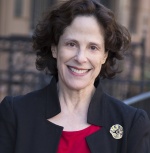 A message from PNY President Ronna Brown, published originally in the New York PhilanthroPost Monthly September 2015 edition
It has been a busy Summer here at PNY in large part because we moved to our new Philanthropy Center in the heart of Times Square.  We are hoping most of you will come to check out our new home over the course of the fall because you also want to attend one of the many terrific programs we will be hosting. 
Every decision we made in building out our new space at 1500 Broadway was focused on how we could better serve you, our members as well as the larger nonprofit sector in New York City. We are close to most major subway lines, so it is easier than ever for the vast majority of our members to get to us. (Reminder: We are at 43rd and Broadway, with the entrance on 43rd Street.)
Our new space has let us increase the size and number of meeting rooms to give you more options.  Our main conference room is significantly bigger than our last one (and no pillars in the middle!) and  it can be divided with a sound-proof wall -- so along with our bigger secondary conference room, we can now facilitate your conference needs three breakout-rooms. We also upgraded our live stream capabilities and sound systems – so you won't need to pass a mic around the room during Q&A anymore! Even if you can't be in the room, you'll will now be able to participate in the conversation with much greater ease. We will also be live streaming more programs in the future, which means broadening the audience and the potential impact of our programs, as well as those you bring to us. We are excited to show all of you the technology bells and whistles in our new space. 
In addition to moving, we spent much of the summer putting together  a fantastic slate of fall events that tackle a wide variety of issues.  Programs cover communications evaluation, power dynamics, mergers, CBO's, fraud and embezzlement, youth workforce development, civic engagement and policy, board service, justice reform and meeting design and implementation, and more. Here are just a few options that you should plan on attending.
September
October
November
We want to give a big shout out to the many generous members who  hosted programs during the summer.    Most importantly, we hope to see all of you at some point over this fall!
Best Regards,
Ronna