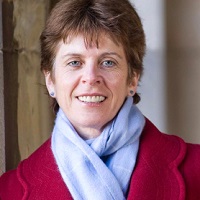 Carnegie Corporation Trustee Louise Richardson Named Vice-Chancellor of the University of Oxford 
Carnegie Corporation of New York congratulates Professor Louise Richardson, an esteemed member of the Board of Trustees, on being named the next Vice-Chancellor of the University of Oxford, the oldest university in the English-speaking world. Professor Richardson is the first woman ever to occupy this leadership role, which she will assume on January 1, 2016.  She is currently the Principal and Vice-Chancellor of St. Andrews University in Scotland, and is an internationally renowned scholar of terrorism and security studies, subjects on which she has advised political leaders and policymakers worldwide. She is known internationally as the author of the groundbreaking publication, What Terrorists Want: Understanding the Enemy, Containing the Threat.
Professor Richardson has led St. Andrews for more than six years, where her tenure has combined strong institutional advancement with a distinguished academic career. Her leadership of the 600-year-old institution has been characterized by its focus on educational mission, student experience, and development of the university's infrastructure. Prior to joining St. Andrews she was Executive Dean of the Radcliffe Institute for Advanced Study at Harvard University, where she was instrumental in the transformation of the former women's college into an interdisciplinary center, and where she received several honors in recognition of her exceptional teaching.
When asked to comment on her new position, Professor Richardson said, "Oxford is one of the world's great universities. I feel enormously privileged to be given the opportunity to lead this remarkable institution during an exciting time for higher education. I am very much looking forward to working with talented, experienced, and dedicated colleagues to advance Oxford's pre-eminent global position in research, scholarship, and teaching."