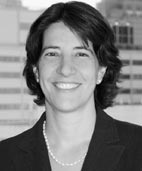 Brooklyn Community Foundation Welcomes Nicole Gueron to Board of Directors
Brooklyn Community Foundation announces the election of Nicole Gueron, co-founder of the law firm Clarick Gueron Reisbaum LLP, to its board of directors, effective September 30, 2016.
Ms. Gueron previously served as the Deputy Chief Trial Counsel to New York State Attorney General Andrew Cuomo, directing some of the office's largest investigations as a member of the Attorney General's Executive Staff.
She has also served as an Assistant United States Attorney for the Southern District of New York, and was awarded the national Director's Award for Superior Performance for her work during this time.
Ms. Gueron is the past Chair of the Board of Directors of the Brooklyn Heights Montessori School...